Bloodshot Reborn #1 hits comic book stores this Wednesday. We are thrilled about the book, in fact we had to force ourselves to stop talking about it when we recorded VCR last night, otherwise we would have gone on and on about the book.
OTV headquarters is right smack in the middle of Southern California, and there are a few great events and exclusive covers going on around here over the next couple days. We thought we'd take a moment to share them with you.
I've got it on good authority that the Sales Manager for Valiant will be at these events, promoting the book, and giving out some cool Valiant swag. Go say hi to Andy for us!
Wednesday: Geoffrey's Comics
Geoffrey's Comics is in Gardena, and they have an exclusive Bloodshot Reborn cover drawn by the incomparable Neal Adams.
Stop by the store all day long to pick up their exclusive.
Here's the Facebook event details for this exclusive Bloodshot Reborn book.
Geoffrey's is located at:
15900 Crenshaw Blvd, Gardena, California 90249
Or just find them on Facebook here.
Thursday: Collector's Paradise Pasadena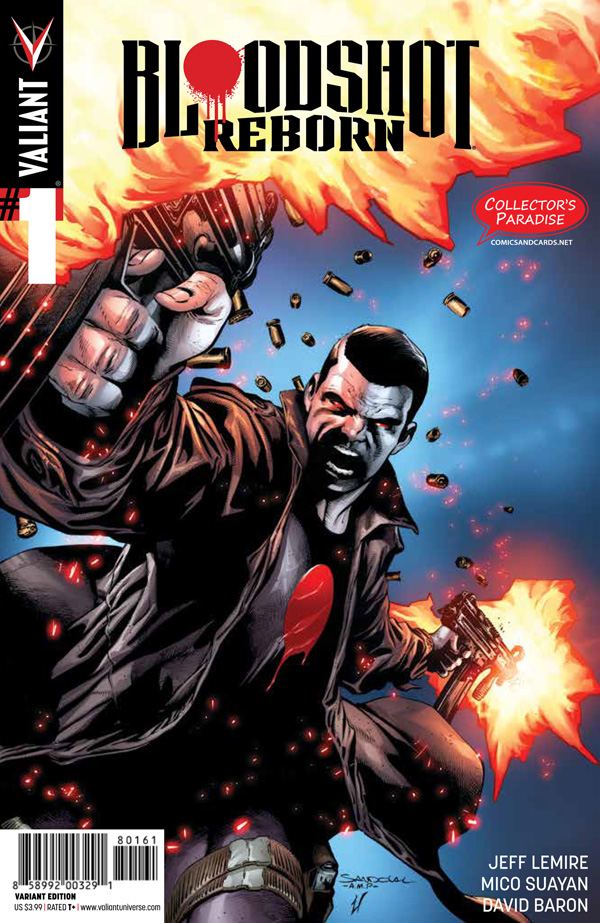 Long-time OTV fans will recognize Ed Greenberg, the owner of Collector's Paradise.
He has been on the show many times, and has been a major supporter of Valiant at the retail level.
He also puts on great events at his Collector's Paradise stores.
Collector's Paradise has an exclusive cover to Bloodshot Reborn #1, drawn by Rafa Sandoval.
Drop in to the Pasadena store on Thursday, say hi to the Valiant Comics sales team, and pick up this cool variant.
If you can't make it in to the store for any reason, you can head over to Collector's Paradise online to get the Bloodshot Reborn Variant.
Collector's Paradise also has an exclusive cover set for Bloodshot Reborn issues 1 through 4, that all connect into one giant image.
They are also throwing in an exclusive print if you get the whole set.
Check out the interconnecting cover image:



They've also got this available on their online store.
Collector's Paradise is located at:
319 S Arroyo Pkwy #4, Pasadena, CA 91105
Or just find them on Facebook here.
Friday: Signing and Exclusive at Ryan's Comics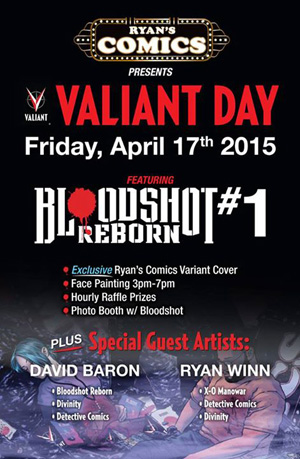 David Baron and Ryan Winn will be at Ryan's Comics signing their exclusive cover to Bloodshot Reborn, penciled by David Baron, and inked by Ryan Winn.
David and Ryan are two of the nicest, coolest guys you will meet in this comic book world. If you need to be convinced, you can listen to Ryan and David talk at Long Beach Comic Expo in OTV 185.
Stop by to talk with David and Ryan, and get this cool cover signed by the team.
Ryan's Comics is located at:
25021 Madison Ave (@Los Alamos), Murrieta, CA 92562
Or just find them on Facebook here.
Let us know
Let us know if you go to any of these events, send us a tweet, or shoot us an email to let us know how it was!