Valiant Universe characters will be made to fight to the death against the Classic Valiant incarnations of themselves!
OTV has learned exclusively, via our well-placed agents at Emerald City Comic Con, that Book Of Death will feature the return of one of the "big three" of Classic Valiant villains: Erica Pierce, better known as Mothergod, the villain from the original Unity saga.
What's more, this will actually be the Classic Valiant Erica Pierce, not just a modern reboot of the character. She will be coming into the Valiant Universe from the old, Classic Valiant (VH-1) Universe.
Our agent acquired, via Dinesh Shamdasani's iPad of Pleasure, a teaser image for the event. These were slated for public reveal at Wondercon this coming weekend, but we have acquired them several days early.
The teaser is shown below: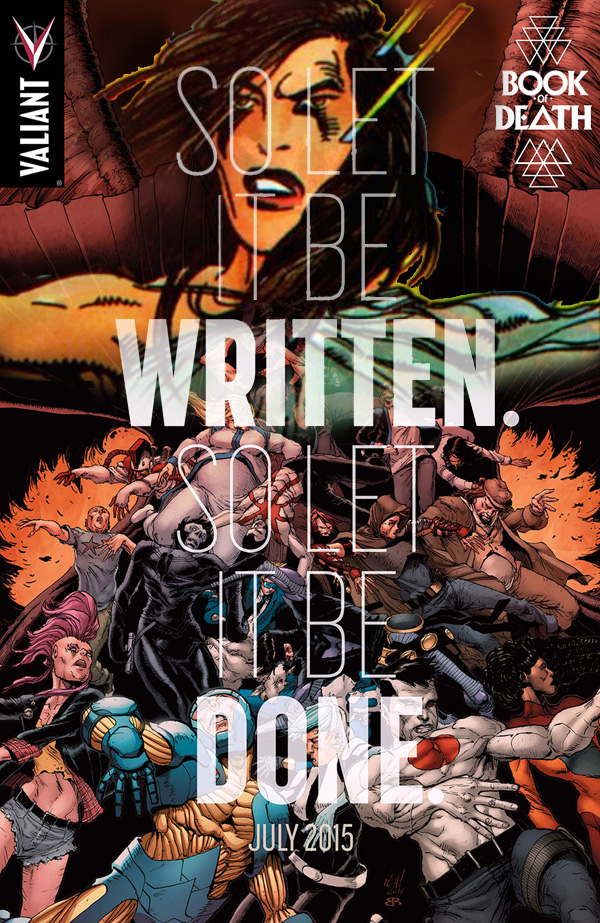 We weren't able to discover all of the details about this event, but it seems that in a loose sense, Mothergod somehow is removed from her prison (possibly by Divinity), and finds her way to The Faraway, which she discovers has similar properties to the Lost Land.
She then manipulates events so that heroes from both the current Valiant Universe and the Classic Valiant universe are pulled to The Faraway, where they are forced to fight against each other. To the death.
So there you have it! We should expect more information throughout the month of April about this event, but this is quite an exciting way to kick off the first day of April!
Happy April 1st!