Oh, Valiant Panel, you complete me.
There is one thing true of every convention, if you want to get pumped up for Valiant Comics, go to the Valiant Panel. I think it was put best by my friend Todd. He is not a die-hard Valiant fan, but appreciates their comics. After the panel he told me, "you know, after that panel I am really excited to go home and catch up my Valiant reading."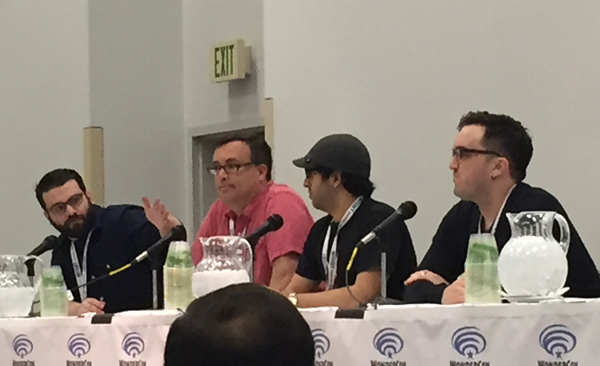 That's just what Valiant does. The Valiant panel at Wondercon gave us a whole lot to be excited for, and gave us a few hints into what is happening now, and what is coming up, in the Valiant Universe.
So, the panel. It was hosted by Hunter Gorrinson, and featured the following:
Fred Van Lente
Ryan Winn
Dinesh Shamdasani
They started off talking about Ivar, Timewalker. Ivar is the oldest, and the most ruthless, of the Anni-Padda clan. He has the brilliance of Reed Richards with the flippancy of John Constantine.
The next arc is going to be called "Breaking History". Someone becomes trapped in Oblivi-1 at the end of history, and Ivar assembles a team to rescue them. On this team will be present day Armstrong, and 10,000 A.D. Eternal Warrior, as well as others.
Fred Van Lente told us about the theories of Stephen Hawking, and that he has a theory that if you were to go back in time, it would be impossible to change anything. The universe would essentially prohibit any changes to be made. Ivar has professed as such to Neela. Fred then reminded us that Ivar, however, lies a lot.
Ryan Winn is the inker on Divinity, and he shared some of his thoughts on the book. It is about how a man deals with tremendous power. He made the point to tell us that it is not a superhero book, any "super-heroics" that we see in the book are just a background to the very emotional story they are telling.
Ryan and the other panelists told us about how Matt Kindt is writing the book in a very visual way. They highlighted a battle that X-O Manowar has with Divinity, where the events that X-O Manowar thinks are happening, and what is actually happening are juxtaposed in a very interesting way. They also mentioned that the way that the pages meet when the book is closed plays into the storytelling of the book.
Then, of course, Dinesh mentioned this in an offhand comment: "Divinity's power is that he controls energy". This is the first confirmation I have ever heard about what Divinity is actually capable of. It seems that with control over energy, Divinity has control over just about everything.
The last thing they mentioned about Divinity is that there is a big ending for Divinity coming in issue 4 that they are proud of and are excited to see hit the stands.
Ninjak just debuted, and they told us about him next. Ninjak is James bind if James Bond was a ninja, "and kind of an a-hole", according to Dinesh. They told us about the multiple stories being told in multiple times, both in the main feature of the book, and in the Ninjak Secret Files backup feature. By the end of the 13th issue, we will see how the Lost Files story is connected to the main story, and they promised that it will blow our mind.
The 4th issue of Ninjak will focus on Roku, and tell her story and origin.
Next up is Imperium, which is essentially a villains tale. Issue 3 is coming this week, and they think it is the best issue yet.
[Note: We will be discussing the issue in this week's VCR episode, coming out this Wednesday]
Issue three features the robot Major Mech, but he prefers to be called Sunlight On Snow. That name captures the idea of "something beautiful being killed by the thing that makes it beautiful," as mentioned by Hunter.
They teased a bit about Dead Drop. It is going to feature several characters from several books: Detective Kudo and Beta Max from Quantum and Woody, Archer, and X-O Manowar. They are put together by Neville Alcott to stop a virus that is threatened to be let loose.
"Bloodshot reborn is going to be a very big book for us," the panelists mentioned. Jeff Lemire has a big plan for Bloodshot, that spin directly out of The Valiant [note: which we discuss in today's OTV episode], and will last 2 or 3 years.
Bloodshot Reborn is going to be a very different sort of story than we might be used to. They told us that in the Valiant office, they talk about how this is more similar to Twin Peaks than it is Iron Man. Jeff has built a massive story, a true epic.
They showed us some of the art from Bloodshot Reborn #5, which is a stand alone issue, with art by Raul Allen.
They also showed us some art from the second arc of Bloodshot Reborn by Butch Guice.
The arc after that will have art by Butch Guise, and the arc after that has art by Lewis Larossa. [Note: the name of the third arc was revealed in Valiant After Dark, a round table discussion we recorded with the Valiant guys at the show, and which will be published this coming Sunday]
The image above was shown last weekend at Emerald City Comic Con, but we are repeating it here for a very important reason. It's not just the Mad Max vibe, it is this:
Next, they told us that Valiant has never brought back a character from death, and they never will. In the Valiant Universe, dead is dead.
That takes us, of course, to Book Of Death.
They told us about how Book of Death will bring us the fall of X-O Manowar.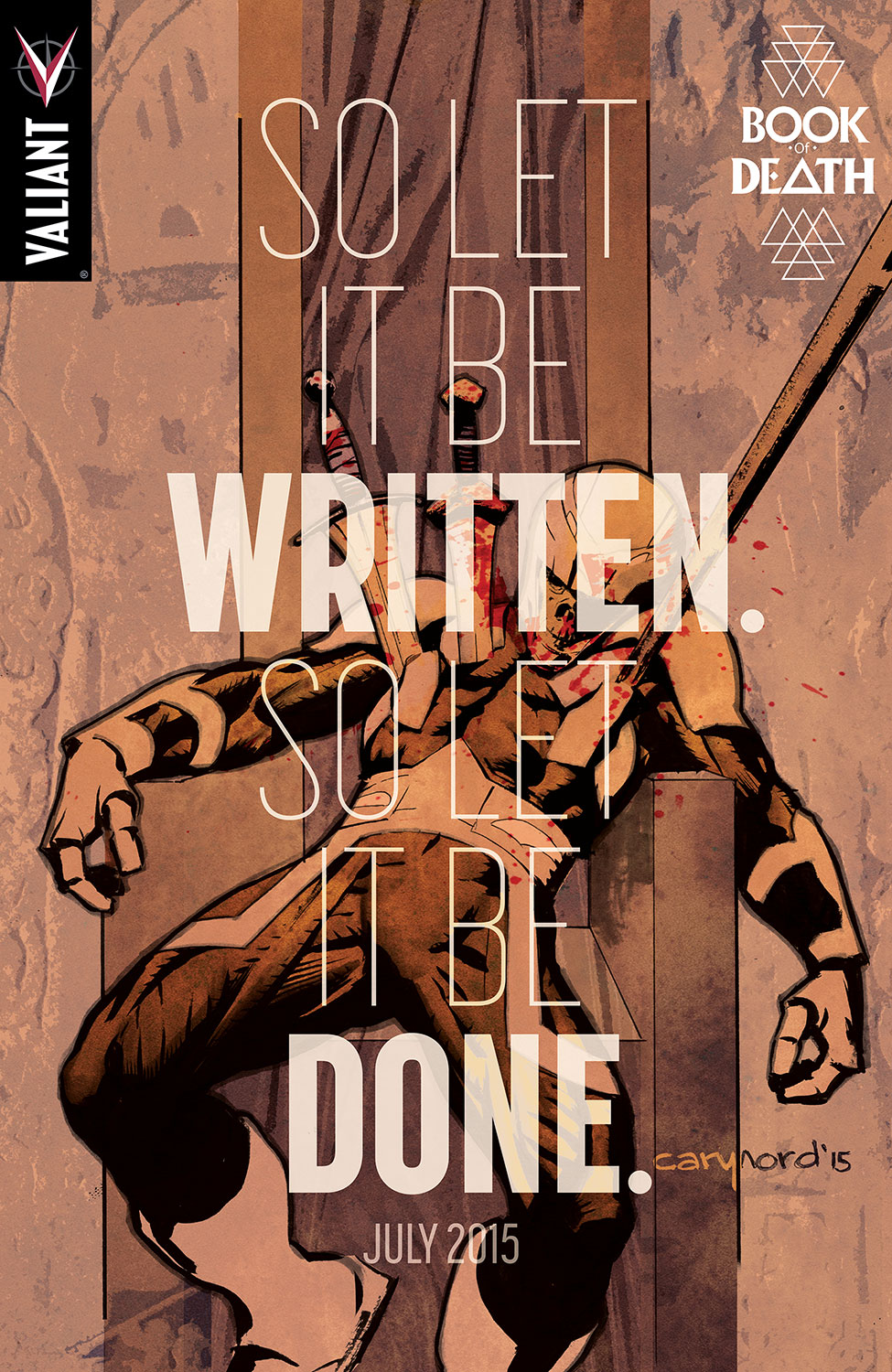 Book Of Death will bring us the fall of Ninjak.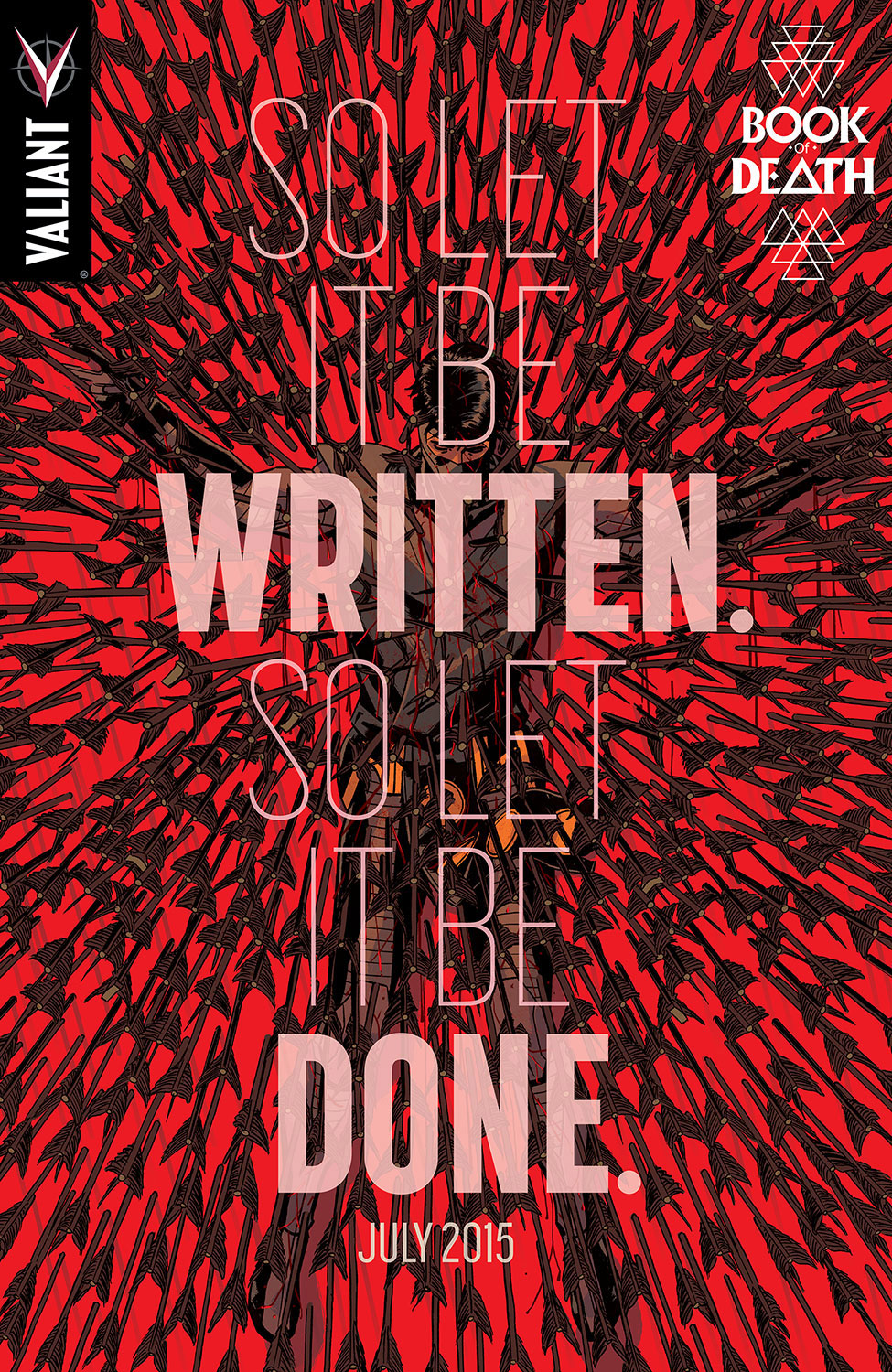 Book Of Death will bring us the fall of Harbinger.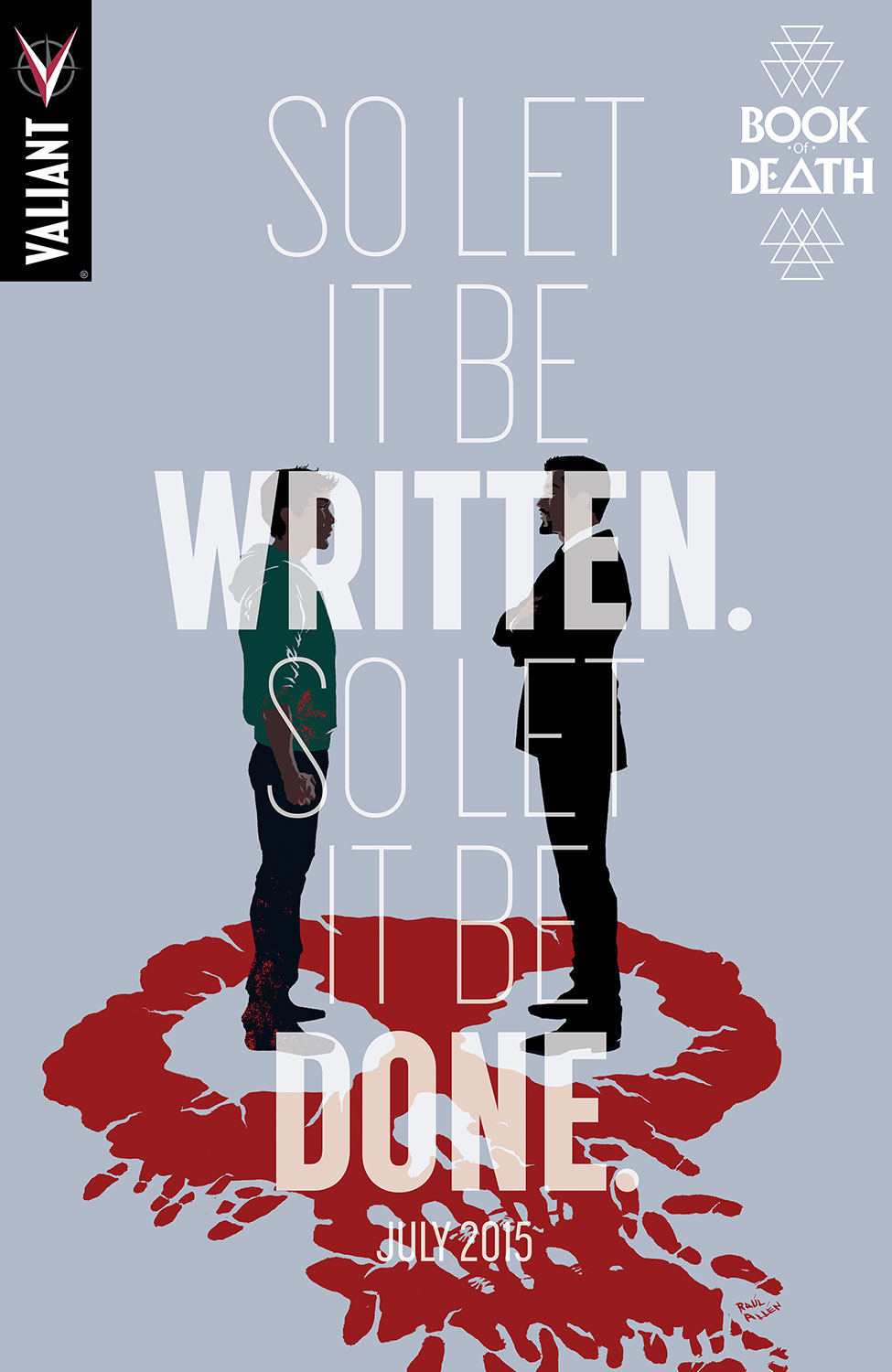 And Book Of Death will bring us the fall of Bloodshot.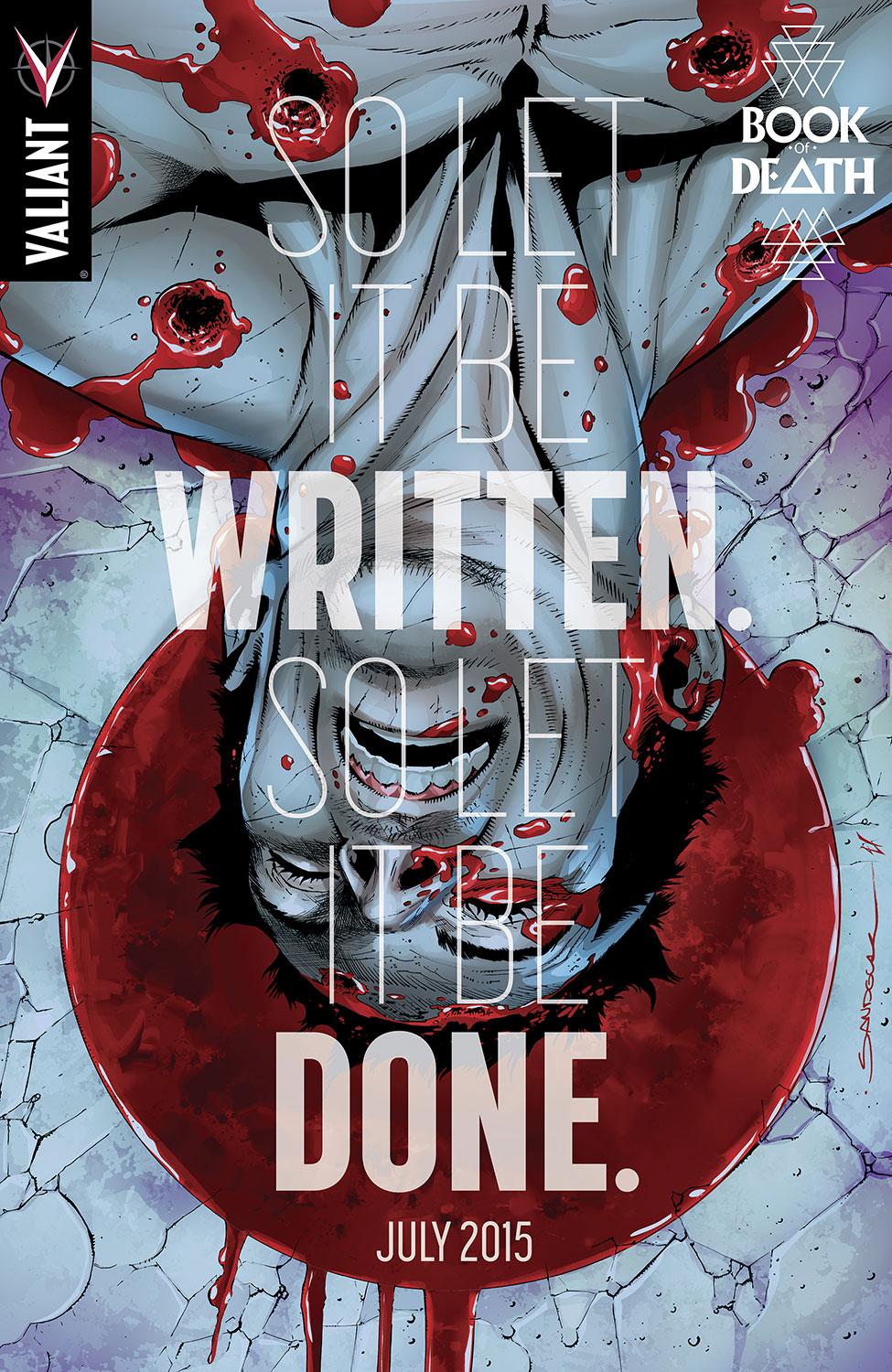 It all begins with this girl, who is familiar to those of us that have read the end of The Valiant.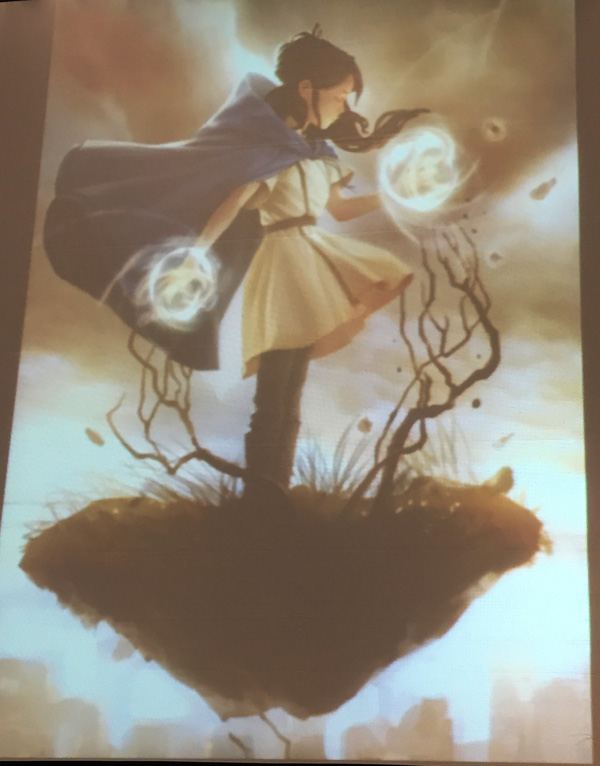 Last, they talked about the wedding of X-O Manowar in issue 38. They told us a bit about the issue at yesterday's Valiant 101 Panel, but today they added that whenever a wedding happens in comics, bad things happen next. We can expect that to be the case here.
We finished up with some questions.
Question: what characters will be out in movies?
Answer: They aren't ready to announce which characters will be in the movies. They plan to roll out this information slowly and methodically, like they did with the comics. They did mention that they are much much further along than anybody has reported, however.
Question: How did Valiant go about deciding which characters to reboot, and how to change them?
Answer: The editorial team worked to figure this out, and really went with gut feeling, and what they thought was best. Fred Van Lente told us about how he used the character designs by David Aja to help him develop the characters when he launched Archer & Armstrong.
He mentioned that in the original Archer & Armstrong series, Archer was similar to a Hare Krishna. Fred didn't know much about being a Hare Krishna, but he did know about being a Christian, so he chose to make that change so he could write about what he knew.
Question: Is valiant open to any deathmate style crossovers?
Answer: We're open to it, but it has to be ther right thing.
That's about it! Enough to get any Valiant fan pumped up for what is coming down the line.
Here's a bonus, some great 1% cosplay: