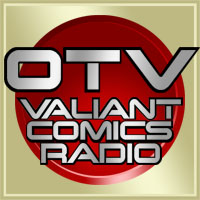 This episode features a number of convention conversations from Long Beach Comic Expo.
First of all, this episode is sponsored by Elveen's Comics, the place to go to supercharge your reading and collecting experience.
Christos Gage is in the house, and we talk about Bloodshot, the H.A.R.D.Corps, and other projects. We discuss his collaboration with Josh Dysart, corporate wars, Bloodshot's programming, what drives Charlie Palmer, and the role that H.A.R.D.Corps plays within the larger tapestry of the Valiant Universe. You can find more of Christos Gage's writing in the upcoming graphic novel The Lion of Rora from Oni Press, Buffy The Vampire Slayer comics, and the Daredevil TV show.
Edward Greenberg from Collector's Paradise drops by to talk about the many exciting things going on. First up, Ed talks about the alpha testing he held at his store for an upcoming Valiant digital card game, plus an announcement of a future event! Collector's Paradise has a bunch of store exclusives coming up, which Ed teases us on. He also tells us about what he is excited about within the Valiant Universe, and makes some bold statements about Bloodshot Reborn and Ninjak.
Last up, it's a double dose of conversation with David Baron, colorist on Divinity and Bloodshot Reborn, and Ryan Winn, inker on Divinity and X-O Manowar. We talk a whole lot about Divinity, and David and Ryan share their insights into the book, and what this story means to them, and may mean to us. Also, they share some insight into the creative process at Valiant Comics.
It was a great Long Beach Comic Expo, and we hope you enjoy these great conversations from the show!
Go ahead! Share this episode with friends: Tweet