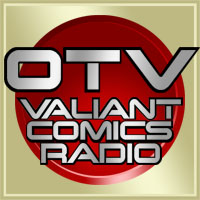 It's become an annual tradition to talk to the folks at Valiant Comics at Wondercon. We've had Valiant After Dark 2014, and Valiant After Dark 2013 before that, and now we're following it up with another great After Dark conversation.
This was recorded Friday, April 3rd, 2015, after hours at Wondercon in Anaheim, California.
We are joined by the great folks at Valiant: Hunter Gorinson, Dinesh Shamdasani, Atom! Freeman, Josh Johns, Andy Liegl, Joshua Dysart, and David Baron.
[Note: this episode gets an explicit tag, as a few adult words slipped out as the drinks were flowing around the table]
We talk about a ton of great stuff going on now at Valiant:
What can we expect coming up from Valiant regarding movies and movie announcements.
X-O Manowar is getting hitched (for the second time). We talk a bit about what we can expect from the the oversized issue
How does time travel work? We hear the story about how this was broken down and explained in the Valiant Offices
What is the name of the third arc of Bloodshot Reborn?
Mad Max Fury Road. What does this have to do with Valiant?
Joshua Dysart tells us a bit about Imperium, and what the road map for the book looks like. He also tells us about villains, and his particular take on villains. Best villains, and whether Harada is a villain.
The secret origin of David Baron! Plus, all about Divinity, or, why they can't tell us anything about Divinity.
Faith and Livewire, and how these characters became such great characters.
Plus, an OTV reward that is sketched and signed by everybody at the round table. Tune in to the very end for that!
All that and more, in Valiant After Dark, Wondercon 2015 edition.
Scroll down to just below the pictures to listen or download from this page.
Enjoy!
Go ahead! Share this episode with friends: Tweet