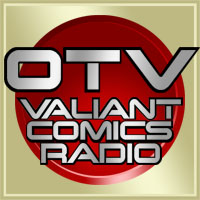 Fred Van Lente joins us to talk about his entire run on Archer & Armstrong. We kick this off strong with discussion of The Michelangelo Code, Wrath of the Eternal Warrior, and Far, Faraway. Together, we dig into the origins of the characters, ideas, conspiracies, settings, and humor of this tentpole Valiant Comics title.
The origins of Fred's Archer & Armstrong run, including the strange circular nature of his previous work that got him the job, the original publishing plans for Archer & Armstrong, and how the plans changed from the initial pitch for the book.
We talk about how much was established from the very beginning of the run, including the Sect, The Boon, Archer's character, and Hogs and Heifers. We also talk about the road map for the series, and how much of it existed from the very beginning, and how much of it changed along the way.
Moving on the second arc of A&A, Fred gives us the high concept for who Kay McHenry is (was, sad). Plus, all about Eliot Zorn and the Null, and how the ideas changed and were updated. Plus, we get some insight into the design of Gilad, and the real reason he wears all of those shotgun shells down his arm.
Next we get into the physics of the Faraway, and also talk about some of the early concepts for what the Faraway was going to be. Of course Fred can't give us too much info about The Faraway, because that would be telling.
Beyond the physics, we talk about the inspirations for General Redacted, and how we imagine him coming to life in various other media. Plus, all of the crazy information about the future that Ivar drops on Archer. How many have we seen happen, how many are still to come, and how soon might we see some of these events come to pass?
We also talk about Archer and Armstrong's falling out over Mary Maria, and why this came to pass. This leads to some discussion about how plans can shift, a hint at the lost fourth arc that was meant to be but never was, and how writing in a shared universe effects the storytelling in Archer & Armstrong.
Find Fred online at his website, or at @fredvanlente on twitter.
Check out the other titles Fred currently writes, including Conan The Avenger, and Magnus, Robot Fighter.
Also, here is Fred's Goodreads Page of Archer & Armstrong References mentioned in the show.
Make sure you tune in next week for the second part of our conversation with Fred, we'll be discussing Sect Civil War, Mission Improbable, American Wasteland, Issue 25, and Ivar, Timewalker.
Go ahead! Share this episode with friends: Tweet