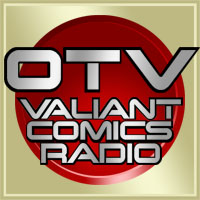 Part 2 has gloriously arrived!
Fred Van Lente joins us to talk about his run entire on Archer & Armstrong (plus a bit on Ivar, Timewalker). We pick right where we left off at the end of Part 1 of our conversation, and hit the ground running into the second half of the series.
Before we jump into Sect Civil War, however, Fred tells us about the "lost arc" of Archer & Armstrong, that was supposed to take place before Sect Civil War, in which Archer makes some mistakes riding the time arcs, Armstrong, Ivar, and Mary Maria get in to hijinks trying to chase him, and they all end up running into another batch of characters that we have all wanted to see more of. To quote Fred, "it would have been freaking awesome."
We then discuss the origins of the Sect Civil War, the multiple new Sect factions, and the Sect itself, and how Fred arrived at this take on this group. Plus, we have some fun talking about conspiracy theories. Also, we talk about some of the influences that went in to the Timewalk Pub Crawl issue.
By the way, did you know that Fred Van Lente has three favorite issues of Archer & Armstrong? Find out the official list in this episode.
After that, Archer & Armstrong collides with Bloodshot and the H.A.R.D.Corps. We talk about some of our favorite moments in the cross-over, but then we quickly shift gears to talk about Archer. In particular, just how powerful is he? Also, Fred tells us how, and why, the overall arc for Archer changed as he was writing.
Next we venture through American Wasteland, and look at some of the things in there that are clearly not references to persons, places, or any other intellectual property (per the lawyers). We also explore some of the "what ifs" about this arc, particularly with regard to Mary Maria.
We round out the discussion of Archer & Armstrong by talking about the final issue, the creation of the Archies, and the cliffhanger in the bar, over a mug of beer. We also take a look at Armstrong, and how his story progressed throughout this run, and just what his outlook on life is, in light of being immortal.
To finish up the conversation, we take a look at Ivar, Timewalker, some of the origins of the series, a little about what is coming up, and the roots for the series in what has come before.
Here is Stephen Hawking's lecture on Space and Time Warps, as mentioned by Fred in our discussion of how time travel works in the Valiant Universe.
Also, find Fred online at his website, or at @fredvanlente on twitter.
Check out the other titles Fred currently writes, including Conan The Avenger, and Magnus, Robot Fighter.
Tune in and spread the word.
Go ahead! Share this episode with friends: Tweet