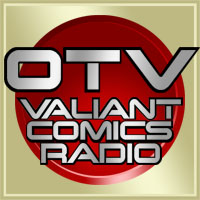 The Book Of Death has been opened to the first chapter, the OTV crew discusses the first month of books in this event. Book Of Death, Fall Of Bloodshot, and Legends Of The Geomancer are discussed in this episode.
First up, we tackle the main story in Book Of Death #1. How does this stack up as an Eternal Warrior story, what do we know, and why is everybody acting the way they do? Also, we spend a while talking about our glimpse of the future from the pages of the Book.
Next, we discuss how Fall Of Bloodshot is one of the most melancholic books we have read for a long, long time. It's also packed to the gills with amazing glimpses of the future. What are the implications of this book?
Last up, the beautifully rendered Legends Of The Geomancer takes us back to the pre-history of the Valiant Universe, to a time when Giants roamed the earth, and Anni and Padda first meet each other under the watch of Nergal.
We find a lot to love, and to discuss, in this first month of this summer event. Tune in and listen now!
Also, two hundred episodes. Yay us!
Go ahead! Share this episode with friends: Tweet