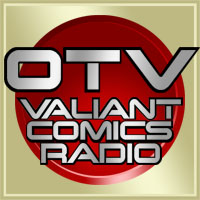 We discuss the second Month of Book of Death titles from Valiant Comics, where everyone has a big fight, then goes somewhere. We all have different ideas about what is, and isn't going on, and there is plenty to discuss.
In Book Of Death, we get a fight, and more info about the future. We discuss things like how the Geomancer's power works, what does it mean that there are two Geomancers, what the big bad guy is up to and how that may play out, plus, if the heroes actually can change the events foretold in the Book Of Geomancer.
In Legends Of The Geomancer, we see another fight, plus some travel from here to there. Also, there is a big guy who shows up, and we discuss him a bit.
Last of all, the book that really bridges the world of today to the world of 4001: Fall Of Ninjak. There is a whole lot of events to discuss about this one, and we also compare it to the previous month's "Fall Of" book featuring Bloodshot.
We've got a ton of great Valiant Comics discussion right here, please join us for a listen.
Go ahead! Share this episode with friends: Tweet