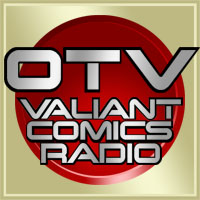 Book Of Death is complete, and the OTV crew gets together to discuss the final chapters of the books in this event. Aric's future, the Brother's past, and Darque's fate are all revealed to us.
First off, we talk about Book Of Death: The Fall Of X-O Manowar, which shows us Aric's fate, and the legacy he leaves in the world. The nature of Aric's passing, and the nature of the new X-O Manowar are all discussed. Plus, some prudent questions about this title!
Next, we see good vanquish evil (or is it the other way around?) in Book Of Death #4. Magic buttons and David's fate get some lengthy discussion, plus we discuss how the events we see in this book tie into the events we saw in The Valiant.
We finish up with some discussion of Legends Of The Geomancer #4, which ties a bunch of previously loose ends together in a satisfying way. We talk about this knot, and discuss the best Houses.
Join us as we Jump Around this great month of stories!
Go ahead! Share this episode with friends: Tweet