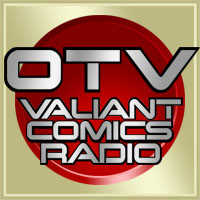 X-O Manowar relaunch! Britannia Sequel! Secret Weapons! The Classic and Modern legacies of Geomancers, Ninjak, and Bloodshot. Plus superstar artist David Baron!
X-O Manowar #1 is the hot topic in Valiant Comics right now, so we talk about our thoughts and impressions of the book based on what we've seen, and even more importantly, the brushed metal cover.
By the way, here's a link to the Humble Bundle with Lewis Larosa "Virgin Art" Variant we discussed in the episode.
We are all excited for the return of our favorite Vertigo book, Britannia. We look ahead to the new mini-series, and by "look ahead", we really mean "look back at the first Britannia series". Plus bold words: Old Skool Valiant was a failed experiment.
Also in the news is this new Secret Weapons series. We know it features Livewire, and we know it had a [broken] code in the promotion material. It is written by the screenwriter of the movie Arrival though, so we discuss our thoughts on that story.
Chiclo wants to talk about the Geomancers. The Axe. The Amulet. The Stylish Headband. Also, the magical powers, and how they compare nowadays with the old skool. In a lot of ways, we have learned a lot more about Geomancers in Modern Valiant, and in some ways, a whole lot less.
Jonesy, keeping with the tradition of his first appearance on OTV, wants to talk about Ninjak. Part Batman, part James Bond, and all Purple Ninja, the Old Skool version of the character has some interesting origins, compared with the interesting origins of the Modern Ninjak.
Sean talks about the legacy of the Murder Machine Bloodshot, and how the modern version of the Bloodshot's legacy is in many ways an inversion of the original. We take a look at the history of each, and explore the similarities and differences.
Most importantly of all, we are joined for a Conversation with Valiant Comics colorist David Baron. We talk about Divinity and some of the challenges that have arisen as a creator of that book.
Also, David is the colorist for Valiant High, which is coming out digitally this week through Comixology, and sounds like it will be a fun detour from the serious stories in Divinity. It also sounds like it is going to be stacked with talent and humor.
Lastly, we get a chance to talk with David about his upcoming creator-owned series Stained, and David tells us what we can expect to see and read in that series. You will certainly be hearing more about this as it gets closer to release.
Plus, in addition to all of this, we somehow talk about Megazords, Demon Burgers, Mid-Life Crisis, Harley Quinn, Captain Marvel Trademark Shenanigans, Dune and Illuminati References, and Deadside Tea Time.
Go ahead! Share this episode with friends: Tweet