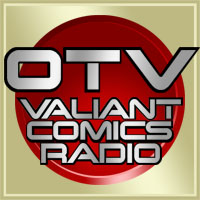 We discuss X-O Manowar #1, Tentpoles of the Valiant Universe, the changing and shifting tides of the Valiant Universe, Bloodshot movie news, and more. Plus, a giveaway of cool one-of-a-kind Bloodshot Island prints.
Our first topic on the discussion floor is the new X-O Manowar #1. It is the new hotness out this week, and we share our non-spoiler (or at least, very light spoiler) thoughts on the issue. What do we think of the change to the X-O status quo? The role and relationship with the armor? And what does it have to do with Richard III?
Don't worry, if you want to skip any discussion of this book until you've read it yourself, we'll tell you how far to jump ahead to bypass any potential spoilers.
The new X-O Manowar title is a bit of a departure from the previous volume, and with much of the Valiant Universe in general. Do we want to see this thing happen for other titles?
Valiant Comics have changed a bit in the last couple years. Who are the current flagship characters? Some of them are who we would think, but Valiant has changed, and some of them have really established themselves as flagship characters in interesting ways. This also leads us into discussing how Valiant successfully creates a lot of diversity amongst their lineup of characters.
The Bloodshot movie also seems to have a new Director attached, so we talk about this movie news, and the long wait we have had for Valiant in the Visual Media.
Plus, Ask Chiclo, the X-O ring, contests, and a whole lot more.
To enter the giveaway of one-of-a-kind prints by David Baron, please share on Facebook, one of the following Facebook announcements for the show. Entrants will be tallied up on Monday, April 3rd, and winners announced shortly thereafter.
The posts to share are the show announcements for this episode (OTV 213). These are pinned to the top of these Facebook pages. (you only need to share one):
OTV Facebook Page (https://www.facebook.com/OnlyTheValiant/)
OTV Facebook Page (https://www.facebook.com/groups/OnlyTheValiant/)
Go ahead! Share this episode with friends: Tweet