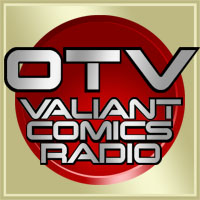 Over the last year, it feels like Valiant has been exploring different corners of the Valiant Universe, and trying out new takes and new directions for some of the properties. While it has "broadened the horizons", it has also removed some of the momentum that has existed in the past, when Valiant was building to larger events like Harbinger Wars and Armor Hunters.
It seems like Valiant may be returning to some of that classic mojo now, and building to something big. All of the announcements we heard at the Valiant Summit were part of this, so we take a look at the various announcements, and what they might mean for our reading future.
On that note, X-O manowar #1 sold a bunch of copies. Can we certify it as a hit?
Faith and the Future Force. What's that now? And Bloodshot? And eKirbyty, And Ninja K? And Quantum and Woody?
Is the Shadowman Ship going to right itself?
News isn't the only thing we discuss, we also talk about Britannia: We Who Are About To Die, and take an early, non-spoiler look at Secret Weapons.
Also, we've had several contests in recent episodes, and it is time to pick some winners!
In addition to the meat and potatoes of this episode,we stumble our way into some interesting topics in this episode, including…
Some interesting conversation about the nature of collecting and owning all of these great comics. Why do we do it?
Old comics vs new comics. How has the storytelling evolved, and what are some of the influences on comic book storytelling, and how have those changed?
(Don't worry, we cut out the several minute aside about helicopters)
(Or did we…?)
We are upset Kano isn't drawing Ninjak vs Mortal Kombat
Jack's Jazz lessons between tea time
Jonesy has to say it anyway
Go ahead! Share this episode with friends: Tweet