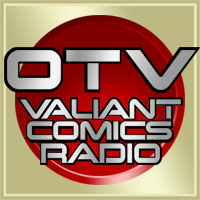 In this episode: The best highlights from the Valiant Fan panel, Josh Dysart on Pete and Harada, and Dinesh Shamdasani on Massacre and Harbinger Wars 2.
San Diego Comic-Con has happened once again, and we've got some great things to share with you. First up, is highlights from the Valiant Fans panel. We had a great bunch of panelists from the past and present of Valiant Comics, and we discuss the greatness of the characters, Bloodshot, from his origins to his upcoming time on screen, to War Mother and more.
Next, we ran into Josh Dysart while getting tacos and beer, and he was generous enough to talk for a few minutes about Harbinger, Imperium, and the relationship and story between Harada and Pete. Plus, some hints about what Josh may be working on in the future.
Also, the Valiant Crew told us the story of the Comics-Pro variants that were given to retailers at Comic-Con. You may have seen these, they are polybagged and sealed, and the book insode can be either of three possible books that were given away. They share with us the story of these books.
Last, we ran into Dinesh Shamdasani on the train ride home, and spent a few minutes with him, talking about Massacre, developing and growing characters, defining moments in stories, and how all paths lead to Harbinger Wars 2. Plus, hints galore about Psi-Lords, 4001, Armor Hunters, Harbinger Renegade, and more. Warning! This conversation contains massive spoilers for Harbinger Renegade #5.
Tune in, because this episode is the goods.
Go ahead! Share this episode with friends: Tweet