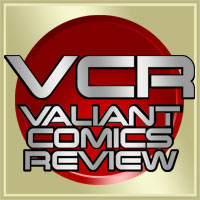 We see through the cracks of Stalinverse, Find some island secrets, and end a Bloodzombie plague in this week's new Valiant Comics.
Another week of Valiant Comics! Another week of VCR to discuss them!
First up, in Divinity III #2, we see Ninjak team up with an old friend (or is that enemy?), and they talk about their coloring books. Ninjak fights the black knight, and we talk about Kazmir, and where he has been hanging out. All sprinkled, of course, with random connections, crazy theories, and important questions.
Next is Savage #3, which sees Kevin Jr take on the Others and fight a polar bear more dinosaurs. We make some obvious comparisons to Lost, but also find the ways that it is distinctly different. Where is this island? And what is that thing in the camp? We revisit these questions in light of this new piece of the puzzle.
We finish up with Bloodshot USA #4, which closes out this story line. WTF Kozol?! We get to some discussion about that. We also look at Kay, and her current status, now that the story is all said and done. We have mixed thoughts, but it leads into a discussion of the relationship between Ray and Magic, and how that has progressed over the series.
Spoiler alert! We're going to be all in this business.
Go ahead! Share this episode with friends: Tweet