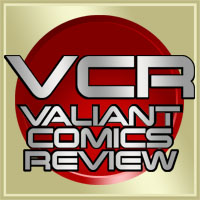 Ninjak gets the seventh blade, and Shadowman takes on New Leningrad in this week's new Valiant Comics! We discuss them both.
Every week, Only The Valiant presents the Valiant Comics Review, which is your dose of conversation about the new Valiant Comics, on your shelves right now.
First, we discuss Divinity III: Shadowman & The Battle Of New Stalingrad #1, in which we see a quite different Shadowman from our usual version, and things don't quite go how Jack would like. Also, we use the word "Pokemon" way too much.
Second up, in Ninjak #24, Ninjak fights the gang for a while, then meets the person behind all of this nonsense. He also gets a cool sword and a cool mission. We'll see how it goes…
Spoiler Warning! We are gonna be all about these books. If you haven't read them, be warned.
Go ahead! Share this episode with friends: Tweet