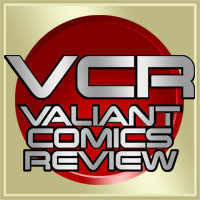 Black Sheep attack! Cows! Swords! Flashbacks! Big Fights! Chess! It's a big week of Valiant Comics, we talk about them all!
Every Week, Only The Valiant presents Valiant Comics Review (VCR), a deep dive into the brand new Valiant Comics, on the shelf now.
First, in Generation Zero #8, we take a look at the ups and downs of this slugfest, and how this story looks now that much more is being revealed.
Next, in Ninjak #25, the story reminds us of a previous great Shadowman story, and we have some speculation on how things are going to turn out.
Last, we tackle Divinity III #4, the final chapter of the Stalinverse. What did we think of how everythign went down? Did it live up to the hype?
Spoiler alert! We have read these books, and are going to talk about them without holding back.
Go ahead! Share this episode with friends: Tweet