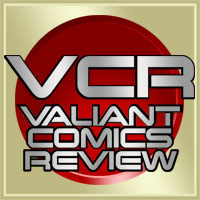 This week on VCR we've got something a bit unique for our Valiant Faithful listeners – Softcore Jeff is flying solo as he discusses Ninjak 26 & Generation Zero 9… with only himself & himself to keep himself company! Bear with us as Jeff totally takes one for the team so we can dodge a major "technical difficulty bullet" and have a new episode out to appease your aural pleasure!
First up, its the end of a big story arc in Ninjak #26 as the Shadow Seven confront Master Darque in the heart of his deadly DarqueWood… and Roku's plan is revealed! Will things ever be the same again between these characters?
Next up Jeff wraps up the run of Generation Zero with the final issue #9, as the story wraps itself up in a tidy bow. Love it or hate it, the book is done, son!
Spoiler alert! Jeff has read these books, and he will discuss them amongst himself assuming that you have too. If you don't want Jeff's inner monologue to spoil your Valiant reading this week, please read up before listening!
Go ahead! Share this episode with friends: Tweet