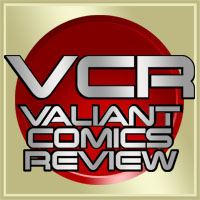 Aric continues to show the Cadmiums who is boss in X-O Manowar, and Tama has a nice adventure in the Deadside in Rapture. Time to dig into this week's new Valiant Comics!
X-O Manowar gets a promotion, just in time for his next story arc, and we talk about the action packed book. It continues to deliver. What do we know about Aric's frame of mind and how he got to be where he is, and got the relationship with Shanhara that he does? Plus, what's up with the President? We got a lot to say about the President, somehow. War Mother too. Not sure how that happened.
Tama takes a walk on the Deadside in Rapture #1, and gives us an explosion of mythology. Ninjak and Punk Mambo reluctantly go back to the Deadside, and Shadowman is still rockin the cool hood. We're also getting a Geomancer story without Gilad. What's the deal with that? Most importantly, what does T.A.D.D. stand for?
Spoiler alert! We're gonna talk all about these books, including the odds and ends. You've been warned.
Go ahead! Share this episode with friends: Tweet