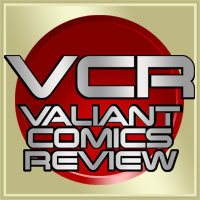 Secret Weapons is revealed to us and throws us into a whole new side of the Valiant Universe. X-O continues to fight, and thrive, in his role in the Azure Army.
Every week, Only The Valiant presents the Valiant Comics Review, which is a quick dose of conversation about the new books, out right now.
First up, we discuss Secret Weapons #1. This book has been hyped quite a bit, does it hold up to that? (Hint: yes). There is a whole lot to discuss, from what's up with these kids from the Willows, to who – or what – Rex-O is. Plus! A look a tease of the Rex-O code.
Second, we discuss X-O Manowar #4. The story continues, the fighting continues, and Aric continues to show us what he is made of. There are a few very deep, interesting events in here to discuss too.
Spoiler Alert! We are going to talk about what happens on the last page of both of these issues. And the first page. And all pages in between. If you don't want our smooth, soulfull voices telling you about it before you've read it, you know what to do.
Go ahead! Share this episode with friends: Tweet