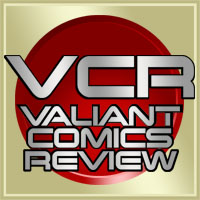 Bloodshot and his pal Bloodshot get a day off in the Big Apple! What do two murder machines do with their day off? tune in and find out!
Also, this issue id the fourth of the homage one-shots, and we take a look at how it compares to the Classic Bloodshot #12, which is the issue that inspired today's book.
Every week, Only The Valiant presents the Valiant Comics Review, a quick look at the new Valiant Comics on the shelves right now.
Spoiler alert! We are going to talk about all of the things that happen in this book.
Also, we get a special guess, Future Mrs. Genius!
Tune in now!
Go ahead! Share this episode with friends: Tweet