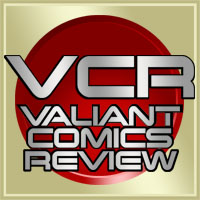 Things wrap up in the Deadside, and history continues to be eradicated in this week's Valiant Comics. Only the heroes at VCR can help you make sense of it!
First we talk about Faith and the Future Force. What's up with the time loops? What does Plato have to do with it, and what can we learn about our robot enemy from him? Plus, we discuss the possible geek culture tie ins to this time twisting plot.
Next we talk about Rapture, which ties up the battle against Babel. What do we learn about the Liveside here? and also, we have some thoughts about where this leaves Jack. We talk about those thoughts.
Every week, Only The Valiant presents Valiant Comics Review (VCR), a quick look at this week's new Valiant Comics.
Spoiler alert! We've read these books, and we are going to assume you have too.
Go ahead! Share this episode with friends: Tweet