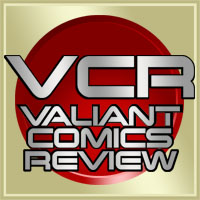 Lots to discuss this week on VCR with three new Valiant comics on the new release racks! Tune in to the conversation as we discuss Faith & The Future Force #3, Warmother #2, & XO Manowar #7!!
In Faith & The Future Force #3, there's more Valiant superheroes than you can shake a stick at trying to take on the Do-bot, but will it be enough? Do we need to throw anything else at the wall to see what will stick here? There's only all of time & space at stake!
In War Mother #2, paradise has been found & the signal sent to the grove, but there is definitely trouble in paradise! Can War Mother clear the danger before the civilians arrive?
Finally, in XO Manowar #7, Aric continues his journey on Gorin to becoming Emperor. The only thing standing in his way is… the Emperor!
Spoiler alert! We have read these books, and we discuss them assuming you have too. If you don't want to be spoiled by our conversation, read the books before listening.
Go ahead! Share this episode with friends: Tweet