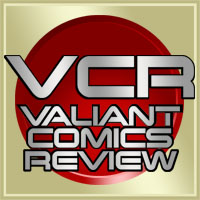 VCR turns 150!! Join us for this special celebratory episode, where in addition to talking about XO Manowar #11 & Ninja-K #3, we are having a bonus chat about the special mail-away-only Harbinger Wars Zero issue!
First up in XO Manowar #11, Aric's stubborn refusal to get along with Shanhara continues to cause him difficulties as a band of mercenaries hired by the Gorin Illuminati [you heard that term here first, folks!] show up for a show down. But when the chips are down & nearly everyone seems to be united against him, help comes from a very unlikely source.
Then in Ninja-K #3, its Ninjac vs. Ninjak!! We get a deep dive into the history of the mysterious Acclimation Bureau & question whether or not there are still more secrets buried in Ninjaks past that may not remain secrets for much longer! How much backstory can one character have?
And yes, as a special 150th episode celebratory bonus, we will discuss the very special Harbinger Wars 2 #0 issue. If you didn't go through the coupon mail-in process, you likely won't have a copy of this [or might still be waiting for a copy in the mail] – but thats why we left it to the end of the show to discuss. If you don't want to hear anything about this book you can tune out once we've gone through the regular weeks releases. VCR always puts the needs of the listeners first!
Spoiler alert! We have read these books, and we discuss them assuming you have too. If you don't want to be spoiled by our conversation, read the books before listening.
Go ahead! Share this episode with friends: Tweet