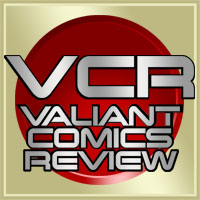 Armstrong throws the party of the year, and we are all invited. The Vault opens, and we take a look at the party that follows. Plus: we take some time to talk about the transfer of ownership of VEI to 100% DMG control and what this might mean.
First up, we dive into the Vault. We take some time to understand this story, what is going on, Armstrong's intentions, plus a lot more. There are a bunch of nuggets and call backs to point out and discuss. What do we think of this stand alone tale?
Second, you have probably heard the news. DMG has totally acquired Valiant Entertainment. Dinesh Shamdasani will be leaving his role as CEO and Chief Creative Officer. What does this mean overall for the company? What might it mean for the books? What are our personal reactions to this change? We all need some time to discuss.
Spoiler alert: We are going to talk all about this book. Read it first please!
Go ahead! Share this episode with friends: Tweet