OTV NEWSLETTER FOR APRIL 2013
Hello!
Remember the Only The Valiant Newsletter? That was pretty great, wasn't it? I think it's time that it made a triumphant return.
For some of you, this may be the very first newsletter you have received from us. After all, the last OTV Newsletter was a year ago. Wow! It's been such a long time that there is only one appropriate question to ask…
WHY ARE YOU SLACKING OFF?
Let's get serious for a minute or two.
A lot of you know that I (Sean) do a lot of the behind-the-scenes work for OTV. I edit episodes, update OnlyTheValiant.com, and write these newsletters. About nine months ago, I got a new job in L.A., packed up my bags from San Francisco, and headed south. My new job is great! It is challenging, pushes my skills, and is very rewarding. On the other hand, it takes a lot more of my time and energy. When I combine that with frequent travel, it hasn't left me with as much time to dedicate to OTV.
This newsletter is, unfortunately, one of the things that fell by the wayside as I adjusted to my new status quo.
With that heart-to-heart out of the way, let's get to the newsletter! I want to bring these back, and once again make them a monthly occurance. We'll be aiming to release these the first Sunday of each month. Let's hope for the best. Onwards!
In this newsletter:
Looking Back At March
Wondercon!
Mark Moretti is the Man
Classic Book of the Month
A Look Ahead At April
LOOKING BACK AT MARCH
Here's what we were up to in March:
Episode 136: Archer Zero. The crew discusses Archer & Armstrong: Archer #0 as we get a little peek into Archer's past and origin.
Episode 137: Unity Four. The OTV Four discuss Unity #4 for the entire episode. Wowsa! We have been loving Unity, and we talk about this issue, and the entire first arc.
Episode 138: Round Up. Each one of us picks a different series to discuss, and talk about what we have been loving about it. Bloodshot and the H.A.R.D. Corps, Harbinger, Eternal Warrior, and Quantum and Woody all get the OTV treatment in this one.
Episode 139: Unity 5 and the New OTV, Eh! The all new Only The Valiant crew makes their introduction and talks about Unity #5. This is, of course, our April Fools' joke, OTV will not be handed off to Canada. In the end though, Chris, Josh, and Mark played the joke on us by recording a fantastic episode.
Out Today! Episode 140: You Talk, We Listen. Then We Talk. Your emails and voicemails have been piling up, so we dedicate this episode to your feedback. Thank you for sending in your thoughts, and please continue to do so!
WONDERCON
Wondercon is coming up April 18 – 20. Valiant Comics will be there with a booth, a panel, signings, and an exclusive variant. We've got all the details of where and when to find Valiant comics right here on the OTV website.
Are you going to Wondercon? If so, we would love to meet you! Sean, Elveen and Chiclo will all be at the con (we are still trying to talk Jonesy into driving out from Arizona for the day). We will of course be at the Valiant Comics panel, 11:30am Saturday, room 203. Also, Elveen will have a booth, so stop by Elveen's Comics, Booth 131, and say "hi".
The best way to get a hold of us during the show is to message us using Twitter to @OnlyTheValiant. We hope to see you there!
MARK MORETTI IS THE MAN
Sometimes, we get the coolest stuff in our inbox, like this Ninjak drawing by Mark Moretti: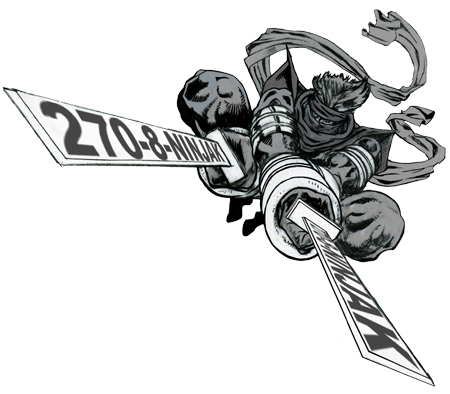 As the man responsible for Ninjak, Mark thought that the old Ninjak drawing on the OTV website wasn't up to snuff [note:it wasn't].
He offered us this drawing to use instead, to which we enthusiastically said "yes!" It is now featured on the OTV website homepage. Thank you, Mark!
Mark's work was recently featured in the Valiant Masters: Ninjak hardcover book, which reprints Ninjak 0, 00, and 1-6. Mark wrote all of the early Ninjak issues, and drew about two-thirds of them. If you haven't checked it out already, get it while you can. It definitely reflects the 90s era of comic storytelling, and is also a great look back at the Ninjak that was. If you click on the picture, it will take you to the Amazon page for Valiant Masters: Ninjak HC

.
In addition to creating Ninjak with Joe Quesada, Mark Moretti drew issues of Magnus, Robot Fighter, Shadowman, and X-O Manowar. He both wrote and drew Eternal Warrior, and wrote the latter issues of Bloodshot, which are near and dear to my heart, and stand out as some of the better stuff from the waning years of Valiant.
CLASSIC ISSUE OF THE MONTH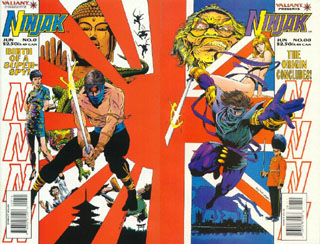 Ninjak #0/#00
Written by Mark Moretti, Pencilled by Mark Moretti, Inked by Dick Giordano, Colored by Mark Pusateri
Cover Date: June 1995
This month's Classic Issue Of The Month is two issues, the two-part origin of Ninjak.
Synopsis: Jonathon King and Neville Alcott – Spies for her Majesty's Secret Service in the 1950s. Jonathon is sent to Japan with his pregnant wife Catherine to spy on Iwatsu and his growing experiments in making super humans. Colin King is their child, and is forced into hiding when one of his father's spy missions goes terribly wrong. Colin learns his Ninja skills, is wrapped up into the clandestine goings on of England's spies, and has his first run ins with both Iwatsu and Dr. Silk. Speaking of Dr. Silk, we see his childhood, and learn about what happened to him to make him so disfigured, and so amoral.
Why it's cool: This two-part story has a ton of stuff packed into it! Not only do we learn the origin of Ninjak, where he learned his ninja skills, and how he became a super spy (and the origin of the name "Ninjak"), but there are ties to a ton of other stuff in the classic Valiant Universe. Iwatsu, who you might remember from such things as Project Rising Spirit, plays heavily in this story. Neville Alcott, who later worked with the Eternal Warrior and with Bloodshot, has a large role in this story. It also follows up on plot threads from the Abnett & Lanning run of Ninjak (issues 11 – 21), which include some great stories that gets into the legacy and history of the King family. All of that, plus the origin of Dr. Silk!
Why it was chosen: At first these two issues were picked because they were written and drawn by Mark Moretti (he's the man, if you recall from earlier). Also, right now in Unity, Ninjak and crew are facing Dr. Silk. It's the perfect time for us to get to our roots and take a look at the classic origins of both of these characters.
Also, just take a look at that cover. Ninjak, Japan and British designs, gorgeous women, and Dr. Silk. That is one great set of covers.
LOOKING AHEAD TO APRIL
April should be an exciting month. More than anything, we're looking forward to Wondercon, and hope to bring you some great interviews and episodes from that event.
Before that though, keep an eye out next Sunday for Episode 141. We'll be discussing Bleeding Monk #0, the mind-bending issue showing the past of one of the strangest and most mysterious characters in the Valiant Universe.
The rest of the month isn't planned yet, but we'll be coming up with some new ways to make the episodes better, and to make it a little more fun to be a fan of Valiant Comics.
I THINK THAT'S ENOUGH
I'm exhausted from writing so much after such a long absence. As always though, you can find us on Twitter, and the OTV Facebook page. Thank you all for your tweets, likes, shares, etc. It all helps us spread the word about our show.
Do you want to do something really nice for us? Leave us an iTunes review. Any type of review is great, but we particularly love the 5-star reviews. Leaving a nice review if you like OTV helps the show out a lot!
Also, if you have any feedback for us, or things you would like to hear us talk about, shoot us an email and let us know. We love to hear your thoughts! Send email to onlythevaliant@gmail.com and leave us a voicemail at (270) 8-NINJAK [(270) 864-6525]
Oh yeah, we're back, baby!
"Only The Valiant For Me!"