OTV NEWSLETTER FOR JULY 2012
Hi,
July is here, and summer is in full swing! We've got a lot to look forward to – fireworks and the Fourth of July, San Diego Comic-Con, and Bloodshot!
This newsletter is a couple days late because your Valiant editor at OTV was down in Cabo San Lucas for a week, sitting by the pool, eating fish tacos, and sipping margaritas and cervesas all day. But vacation is over, time to get back to it!
(Also, vacation isn't really over, because Comic-Con is next week!)
In this Newsletter, we've got information about San Diego Comic-Con, a look back at June, Info about the comics Valiant is releasing in July, and a classic book of the month!
LOOK BACK AT JUNE
Here's what you may have missed in June from Only The Valiant:
Harbinger #1 came out at the beginning of June, and we kicked things off with a two-part series of episodes with Ed from Collector's Paradise and Joshua Dysart, writer of Harbinger. In part 1, we discussed retailing comic books, writing comic books, and discussed Harbinger in general terms. In part 2 we spoke with Josh about Harbinger #1, and the story he will be telling in Harbinger.
June didn't just give us Harbinger #1, X-O Manowar #2 also hit the stands. In episode 75, the whole OTV crew got together to discuss both Harbinger #1 and X-O Manowar #2. We leave no stone untouched, and no controversial subject undiscussed.
This is a little aside, I can't believe that we put out our 75th episode this month! A little over 4 years ago, we started this podcast because we thought it would be fun to talk about some Valiant comics, and we had a notion that some day, Valiant would be back on the comic book stands. The reason we are still going, over 4 years later, is because of you! If you weren't listening, we would have thrown our hats in a long time ago. Thank you for listening!
BLOODSHOT #1, HARBINGER #2 AND X-O MANOWAR #3
We've got three great Valiant comics coming out this month (it's like they are adding more each month!), let's take a look. Here is the solicitation text for each of these three books:
Bloodshot #1: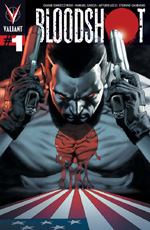 Written by Duane Swierczynski
Art by Manuel Garcia and Arturo Lozzi
Covers by Arturo Lozzi, Mico Suayan, David Aja, and Esad Ribic
The Summer of Valiant continues!
It's the start of a new mission for one of comics' all-time best-selling superheroes in Bloodshot #1 – the first issue of new ongoing series from acclaimed novelist Duane Swierczynski (Immortal Iron Fist, Birds of Prey) and the lethal artistic tag team of Manuel Garcia (Checkmate) and Arturo Lozzi (Immortal Weapons)!
Your name is Angelo Mortalli. Your brother is trapped behind enemy lines and on the verge of — no. That's not right. Your name is Raymond Garrison. You've retired from the dangers of the field, but a desperate plea from your oldest friend plunges you into a vicious firefight that — no. That's not right, either. You are Bloodshot. You are the shade of gray that freedom requires. The perfect confluence of military necessity and cutting-edge technology. A walking WikiLeaks that is a reservoir of dirty secrets that could set the world on fire. And you've just been captured.
32pgs, Full Color, $3.99
On sale July 11
Harbinger #2:
Written by Joshua Dysart
Art by Khari Evans
Cover by Arturo Lozzi
Variant cover by Doug Braithwaite
Outside the law. Inside your head. Welcome to the Harbinger Foundation.
The hunt for Peter Stanchek intensifies after an epic battle with Pittsburgh S.W.A.T forces him to use his powers out in the open. Now he faces the most difficult decision of his life. Continue to put his friends in harm's way… or abandon them for the safety of Toyo Harada's Harbinger Foundation?
32pgs
Full Color
$3.99
On sale July 11
X-O Manowar #3: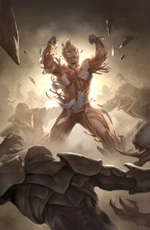 Written by Robert Venditti
Art by Cary Nord
Cover by Jelena Kevic-Djurdjevic
Variant Cover by Mico Suayan
The smash hit series of the summer continues!
With the X-O Manowar armor now in his possession, all that stands between Aric and freedom is a legion of alien soldiers. When he at last comes face to face with Commander Trill — the man responsible for his capture — the enormous power of the Manowar armor reveals its potential in a new and electrifying way. Can Aric lead his band of fellow prisoners off the Vine colony ship and back to Earth, or will their revolt be put down? Who will live, and who will die?
32pgs
Full Color
$3.99
On sale July 18
More info!
We've got more information about the variant covers for each of these books, and some thoughts about the book based on the solicitation, over at OnlyTheValiant.com. We got you covered!
Send in your reviews!
After you read Bloodshot, Harbinger, and X-O Manowar, let us know what you think of them. We want to hear what other fans think of these books, so send in an email to onlythevaliant@gmail.com (pro tip: or just reply to this email), or leave us a voicemail, (270) 8-NINJAK [that's (270) 864-6525].
LOOKING FORWARD TO JULY
San Diego Comic-Con!
San Diego Comic-Con begins in a week, on July 11th (the same day that Bloodshot blasts into comic book stores). Sean, Elveen, and Jonesy will be in San Diego for the event, and we'll be scrambling to bring you the best news from the show.
On Friday of Comic-Con, at 4pm, there is a Valiant Comics panel, most of the OTV crew will be there, so if you can make it drop by! If you can't make it, don't worry, we'll be doing everything we can to cover the event.
Also keep a look out for podcasts and website updates during the week of Comic-Con. As usual, we will be recording during the show, to bring you our thoughts and experiences as quickly as possible.
RECOMMENDED READING
The Surrogates
The Surrogates is Robert Venditti's (writer of X-O Manowar) first creator owned work. It takes place in a future where people plug into robotic avatars through which they experience life. In the simplest terms, it is a murder mystery, though it speaks more deeply to human contact and connection, self-image, and isolation.
And it's on sale now!
There is a new Surrogates series being released as a Digital First, meaning it becomes available digitally before it is available in print. In celebration of this, Comixology is having a 5-day sale on previous Surrogates collections. The first two volumes of The Surrogates are available digitally on Comixology for only $2.99 each. That's for the entire trade paperback collection of each of the 5-issue series. It's hard to beat that deal! If you like digital comics, or are thinking about trying them out, this deal is too good to pass up.
If you like your comics in print, click on the picture of the Surrogates trade paperback above right, and it will take you to a page on Amazon where you can buy it, and they'll also share a small portion of the purchase with OTV, so we can keep the internet connection up, at the same price to you.
If you enjoyed the first couple of issues of X-O Manowar, it is worth it to check out Robert Venditti's creator owned work. We have to support the creators we enjoy, and this Comixology sale makes that VERY easy!
CLASSIC ISSUE OF THE MONTH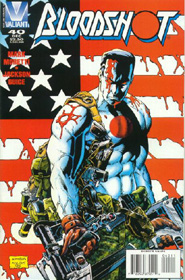 Bloodshot #40
Written by Mark Moretti, Pencilled by Jackson Guice, Inked by Mike Sellers, Colored by Frank Lopez & VanHook Studios, and Lettered by Mike Harmon.
Cover Date: December, 1995
Synopsis: The Joint Chiefs of Staff have a meeting about these so-called "meta-humans", aka, our Valiant heroes, and decide to recruit Bloodshot to help take out Julio Cortez, a South American cocaine dealer. Since Bloodshot has had a string of failures at MI-6, he is ripe to go work for another agency. Or were those failures just a setup? Bloodshot drops in to Colombia to take out Cortez, and then everything goes wrong, Jillian is shot, and Bloodshot is not in good shape. It turns out that there are multiple plots moving around to betray Bloodshot.
Why it's cool: Is the cover not enough? That cover is one of the coolest covers to a Bloodshot comic. Ever. Aside from that, we see Bloodshot kicking butt like only Bloodshot can, plots, backstabbing, setups, twists, and more. At first the story seems to just be a plot of the British and American governments, and more is revealed to show a connection to Bloodshot's oldest enemy.
Why it was chosen: Ok, ok, we have to admit that this issue was chosen because of the awesome cover, and because this Newsletter is being sent out on the Fourth Of July (If you are international, 4th of July is Independence Day in U.S.A.), but it is a very cool issue! This is the first issue of Mark Moretti's run as writer of Bloodshot, and throughout his run he evolves Bloodshot, digs in to his past, and allows Bloodshot to discover more of who he was before he was turned over to Project Rising Spirit, and evolves Jillian Alcott in a very cool way. This issue and the next issue are a 2-part story that set up a lot of what Mark Moretti does with this run. If you want to know more about these later issues of Bloodshot, we discuss them in Episode 59.
See You Next Time!
That's it for this Newsletter!
This newsletter is still an evolving and developing part of what we do at Only The Valiant, if you have any comments or suggestions for this newsletter, please don't hesitate to let us know! You can send ideas or suggestions to newsletter@onlythevaliant.com
Remember, Bloodshot is coming. Be scared!