OTV NEWSLETTER FOR JUNE 2012
Hi,
If you thought May was an exciting month for fans of Valiant Comics, June looks to be twice as good! Not only do we get the second issue of X-O Manowar, we've got Harbinger launching as well, in just a few short days.
In this Newsletter, we've got information about the upcoming Harbinger Launch Party, Our initial review of Harbinger to wet your appetite, a look back at May, a look forward to June, and a classic book of the month!
LOOK BACK AT MAY
Before we take a look ahead at June, here's what you may have missed in May from Only The Valiant.
We kicked off the month with Episode 70, a conversation with Robert Venditti. We talked about X-O Manowar in depth, there's lots of great stuff in this one!
We then returned to classic OTV form with episode 72, Speculation and Speculation. This one's got all the stuff from the classic OTV days, tons of topics, singing, and a little off topic rambles, and more.
HARBINGER #1 AND X-O MANOWAR #2
Harbinger #1
Harbinger #1 will be out in a week, and word on the street is that it's pretty good! We say it's pretty good too. The OTV crew got preview copies, and a few of us have some thoughts to wet your appetite:
Chiclo writes:
Of all the Harbinger characters I expected to see return, ***** was not among them. [Editor's note – edited for spoilers!]
This is a worthy successor to the original Harbinger. The story feels deep and rich. It is much more similar to the original Harbinger than X-O Manowar was to the original.
I don't know who Anderson Silva is but I want to see him fight an MMA match against Predator too.
What is up with all these piercings? Either I am getting old or it is a big city thing.
"Awesome! It's like a Michael Bay movie!" – I can honestly say I don't think I have ever heard that statement before.
Sean writes:
Wow. That was not what I was expecting. In a good way.
All of the elements of this book are familiar, it's the same characters, similar circumstances, but the tone is updated and completely different. The rawness of some of Joshua Dysart's previous work, like Unkown Soldiers, is here in this book. Khari Evans' art adds to tone, capturing that with the heavy linework.
This isn't the kind of book I would expect to see as part of a super hero universe, I would expect a book like this to be published by Vertigo. I really dig it.
X-O Manowar #2
Our Preview-Fu is only so strong, we haven't read this one yet! We'll be there at Wednesday to pick this one up from our comic shops.
Send in your reviews!
After you read Harbinger #1 and X-O Manowar #2, let us know what you think of them. We want to hear what other fans think of these books, so send in an email to onlythevaliant@gmail.com, or leave us a voicemail, (270) 8-NINJAK [that's (270) 864-6525].
HARBINGER LAUNCH PARTY AND CONTEST
Our friend Ed, from Collector's Paradise, is a huge Valiant fan. He's been an incredible supporter of this relaunch with his two Collector's Paradise stores. On top of that, he's got an approach to selling comics that sounds good to us, host cool events, and create a great experience for comic book fans.
To celebrate the release of Harbinger #1, he is hosting a Release Party and signing, with Joshua Dysart, the writer of Harbinger, Dinesh Shamdasani, Valiant's Chief Creative Officer, and Atom! Freeman, Valiant's Sales Manager. If I were anywhere close to the Los Angeles area this Wednesday, this is where I would be.
They will be at the Valley Store from noon to 3pm, and at the Pasadena store from 5pm to 8pm. Check out more and RSVP at the Facebook Event Page for the release event.
LOOKING FORWARD TO JUNE
We've got some good stuff coming to add to your enjoyment of Harbinger and X-O.
In just a day, we'll have Episode 73 coming out, with Ed from Collector's Paradise and Josh Dysart. We'll be discussing Ed's release party, Harbinger, how Joshua Dysart got to be the writer of Harbinger, and more, with no spoilers.
A week after that, we'll continue with part 2 of our conversation with Ed and Josh, to discuss Harbinger #1, since by then the book will have hit comic shop stands, and we'll all have a chance to read it.
A couple weeks later, we'll have our OTV discussion of Harbinger, and talk about X-O Manowar #2. Send in your thoughts and reviews!
CLASSIC ISSUE OF THE MONTH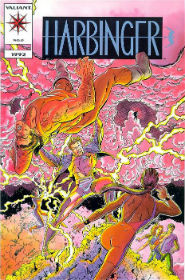 Harbinger #0
Written and Pencilled by David Lapham, Inked by Kathryn Bolinger, Colored by Jorge Gonzalez
Cover Date: 1992
Synopsis: Pete Stanchek writes to the Harbinger Foundation to ask for help with his crazy abilities he seems to have. The Harbinger Foundation answers, and with the help of Toyo Harada, Pete learns how to use these powers. Pete gets a little cocky and out of hand with the use of his powers. When he learns that the Harbinger Foundation killed his best friend, Joe Irons, he kinda flips out. Harada doesn't like the loose cannon, and sends someone to deal with Pete permanently. Pete unconsciously defends himself from the gunshot intended for his head, and goes on the run from Harada and the Harbinger Foundation with his girlfriend Kris.
Why it's cool: Oh, man! Everything about this issue is cool! Harbinger #1 started with Pete on the run, and it jumped right into the action. The Harbinger Foundation was bad, and trying to take out Pete, and Pete was fighting back from the very first issue. We never knew what got Pete running in the first place until this issue, which explains it all. The root of the conflict between Pete and Harada, the root of the entire Harbinger comic series, is established right in this issue.
Why it was chosen: Compare and contrast. That's what this book is included for. What if this story was told, but everything was completely different? You'll find out when you read Harbinger #1 this month. In some ways, it seems exactly the same as Harbinger #0. In some ways it is nothing like this at all.
See You Next Time!
That's it for this Newsletter!
This newsletter is still an evolving and developing part of what we do at Only The Valiant, if you have any comments or suggestions for this newsletter, please don't hesitate to let us know! You can send ideas or suggestions to newsletter@onlythevaliant.com
Remember, Nothing Beats a Bud!