OTV NEWSLETTER FOR MAY 2012
Hi,
May is finally here, and with it comes spring flowers, Memorial Day, the hints of summer, and of course, X-O Manowar #1!
We here at Only The Valiant are pretty darn excited about this book, we have been patiently waiting for the return of Valiant Comics, and they are back with a bang!
LOOKING FORWARD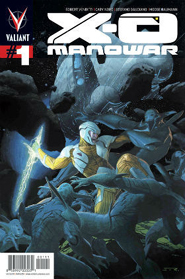 X-O Manowar #1 is in stores tomorrow, Wednesday, May 2nd!
It's the first title Valiant is releasing in their "Summer of Valiant" lineup.
To celebrate the release of this issue, we are going to release Episode 71 a few days early. We've got a special guest for the episode, none other than Robert Venditti, the writer of X-O Manowar! We'll be talking all about the issue, so make sure you read X-O Manowar #1 before you listen to our discussion. Go to OnlyTheValiant.com after you read the issue, because Robert was not shy about talking about the issue. You will not want to miss this episode!
A hint from Secret Agent Spoiler:
This is a really, really mild one. If you don't want to know anything though, skip the next paragraph!
There have been rumors that X-O Manowar isn't just the first appearance of Aric, but that another Valiant character will appear in the issue. Rob was able to confirm that yes, another Valiant character does indeed appear, though he wouldn't tell us which one, or where in the book he or she appears. It's still up to us to scrutinize every panel. Or at least the four panels that this character appears in!
Free Comic Book Day is May 5th!
The second book in Valiant's line up comes out May 5th, on Free Comic Book Day. It looks like the book will have previews and info about all of the titles that Valiant will be launching over the next several months.
If you don't know where your local comic shop is, just go to the Comic Shop Locator to find the closest shop.
Once you've read the books, let us know what you think of them! Send an email to onlythevaliant@gmail.com, or leave us a voicemail at 270-8-NINJAK (270-864-6525). We'll include your comments in the next podcast episode.
LOOKING BACK AT APRIL
Here's some of the stuff we released in April at OTV:
Episode 70 – C2E2 news, and a primer on everything you might need to know about the Classic Valiant to be caught up for the new comics
Episode 69 – The Valiant Battle Royale, we geek out and talk about who would win in a single elimination tournament, featuring Bloodshot, Eternal Warrior, Shadowman, X-O Manowar, Sting, Rai, Archer, and Armstrong.
We've been counting down the 10 greatest X-O Manowar moments, we've gotten to number 2, with number one coming tomorrow. Check them out here.
Also, we put up our non-spoiler review of X-O Manowar #1.
CLASSIC ISSUE OF THE MONTH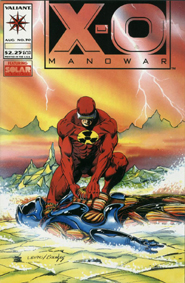 X-O Manowar #30
Written by Jorge Gonzalez, Pencilled by Rik Levins, Inked by Kathryn Bolinger, Colored by Andrew Covalt
Cover Date: August 1994
Synopsis: After the X-O Armor, Shanhara, is destroyed by a Spider Alien plot, and Aric is left without an X-O suit of armor. At the same time, Paul Bouvier has just lost his legs and is slowly dying. Paul sustained these injuries while saving Aric in a previous issue. Solar goes to Saturn, and finds an X-O seed on the armor of the dead Spider Alien that Solar defeated way back in Solar, Man of the Atom. Solar gives the seed to Aric, and Paul bravely volunteers to give up his life to bond to the seed to become the new X-O Armor, Pol Bekhara. Aric once again has a suit of X-O Armor.
Why it's cool: This issue has tons of guest stars, is steeped in X-O lore, and has one of the creepiest moments in X-O history. Solar appears, and grabs the X-O seed in a cool call back to Solar #7, published over two years before this issue. Turok also makes an appearance, to help Aric to deal with losing the armor, and to face the fact that Paul gave up his legs in order to save Aric. Aric finds this difficult to live with, and Turok helps Aric understand the sacrifice that Paul made for him. Randy Cartier is in the issue, and the closeness of her relationship with Paul is shown when Paul makes the decision to sacrifice himself to bond with the X-O seed.
We also get to learn more about the lore of the X-O armor. When Solar retrieves the seed from the dead Spider Alien on Saturn, we see that the armor made the decision to stay with the dead Spider Alien body rather than transfer to someone else. We also see that the X-O ring is the key to controlling the X-O armor. Aric's old ring is now useless, and when Paul becomes Pol Bekhara, there is a new ring that Aric wields to control the armor. We also see the process, in its full violence and brutality, of the seed bonding with a sentient being.
Why it was chosen: This issue includes a little of everything from the classic run of X-O Manowar. We get insight into Aric's character, see all of his supporting cast, and get a lot of insight into the nature of the X-O armor. It will be a cool issue to compare and contrast with the new version of Aric, and the new lore of the X-O armor in the new X-O Manowar comics.
See You Next Time!
That's it for this Newsletter!
This newsletter is still an evolving and developing part of what we do at Only The Valiant, if you have any comments or suggestions for this newsletter, please don't hesitate to let us know! You can send ideas or suggestions to newsletter@onlythevaliant.com
It's an exciting time to be a fan of Valiant Comics, stay Valiant, ye mighty!