A while back, when the Summer of Valiant was just heating up, Valiant ran the best ever event through their twitter account. That best ever event, of course, is Fan Art Friday!
Today, we find out it is coming back:
Ok #VALIANT fans now that we have witnessed the return of #SHADOWMAN it is time to bring ANOTHER favorite back to the #summerofvaliant…

— ValiantComics (@ValiantComics) July 30, 2012
THAT'S RIGHT!!!! I am talking about the long awaited return of #FANARTFRIDAY! This Friday submit YOUR Valiant fan art to win AMAZING prizes!

— ValiantComics (@ValiantComics) July 30, 2012
Submit YOUR artwork on twitter to @valiantcomics with the hastags #FANARTFRIDAY & #SUMMEROFVALIANT best art each week can win great prizes!!

— ValiantComics (@ValiantComics) July 30, 2012
So, who's stoked?
This guy!
I love the Fan Art Fridays. In the past, there has been a lot of cool art that folks have tweetered out on Fridays.
Typically, I end up drawing a little something on my lunch break on Friday, which is why my previous entries are drawn on notepads and graph paper:
Bloodshot And His Sweet Airbrush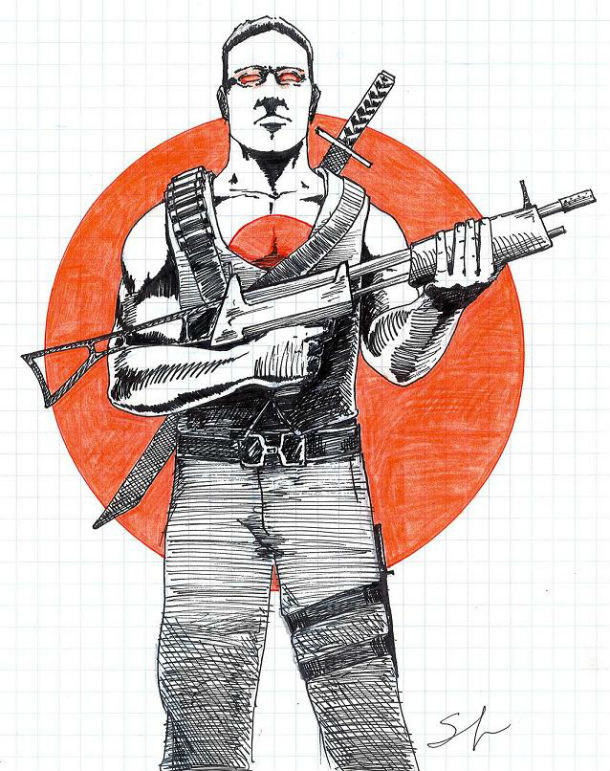 Ok, so I didn't do the best job drawing the gun.
I Hate Red Vines!
Yeah, this one wasn't done on my lunch break, this one was my coffee break. It's a little rushed.
Bring it!
I'll be working on my Fan Art Friday submission this week, I want to try my hand at something a little more in-depth than my usual lunch break doodle.
Get your pencils sharpened and draw! Draw! DRAW! Ye Valiant fans! Draw until your fingers are numbed and cramped!