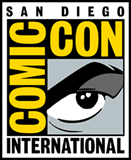 It's here! Finally! SDCC is this week!
It's Disneyland for adults, Mecca for comic fans, it's the pop culture show in America.
Here's some of the stuff I'm looking forward to, and where I'll be.
I'll be getting in to San Diego Tuesday afternoon, but here's a warm up of what is to come.
First of all, of course, the show itself. It runs the following hours, and I will likely be in the show most of the time it is going on:
Wednesday, July 11 – 6:00pm – 9:00pm
Thursday, July 12 – 9:30am – 7:00pm
Friday, July 13 – 9:30am – 7:00pm
Saturday, July 14 – 9:30am – 7:00pm
Sunday, July 15 – 9:30am – 5:00pm
Aside from that, here's what I'll be checking out.
Tr!ckster

Last year, Tr!ckster had its debut year, it was an interesting alternative to Con. Last year, it was right across the street from the convention hall, this year it is up around the corner, at 795 J Street. Tr!ckster had a lot of great art and creative stuff on display, it has a bar, and it is open late. Sounds like the recipe for a great place to hang out in the evening after the show.
Tr!ckster hours:
Wednesday, July 11 – 3pm – 1am
Thursday, July 12 – 11am – 1am
Friday, July 13 – 11am – 1am
Saturday, July 14 – 11am – 1am
There's a good chance I'll be there Wednesday afternoon, before Preview Night begins.
Valiant Comics Panel
This is the place to be this weekend! This panel will have creators and staff from our Benevolent Overlords, to discuss all of our fan questions, Friday, at 4pm.
4:00-5:00 Valiantfans.com: The Unofficial "Summer of Valiant": Valiant fans from across the world welcome you to the celebration of the landmark return of the Valiant Universe. What's next after "The Summer Of Valiant?" Exclusive info and special panelists. Expect an exciting hour in an ask-anything panel, up close and personal. Q&A session moderated by Brian Wells. Room 28E
Brian is a friend of the OTV crew, and this panel looks to be very exciting. I'm working on figuring out how to record the panel to share with folks, we'll see what we can do…
Hyatt Bar
I'm staying at the Hyatt Bar this year, I mean, just the Hyatt. The Hyatt has a good bar though, and it is usually poppin' with Con activity. It's a great chance to see industry folks out in the wild, and a great place to hang out with comic fans.
I know I'll be out there Saturday night, and likely Thursday night as well
Swing on by and have a drink.
Other Cool Stuff
SDCC is the land of exclusives, cool art, comics, activities, etc. Here's some of the cooler stuff from the show I'm looking forward to.
Walking Dead Escape
Petco Park is being turned into a Zombie Infestation Area for the Walking Dead Escape. It looks like it will be a zombie-infested obstacle course that will test how well you would really do in the zombie apocalypse.
I'll be running the course with a few friends in the first wave on Friday. Oh, yeah!

Batmobiles
Warner Brothers is setting up some sort of outdoor entertainment pavilion at San Diego's Bayfront Park from July 12–14.
This sounded like it was just gonna be another "hollywood, big, loud, pointless, blah blah blah", until I saw this:
ALL SIX BATMOBILES!

On display in "The Batcave": all six Batmobiles from television and film! For the first time ever, Comic-Con fans will have the opportunity to see all of Batman's iconic onscreen vehicles live and in person, from Adam West's 1955 Lincoln Futura to the Tumbler from The Dark Knight trilogy.

Adam West's 1955 Lincoln Futura. Designed by George Barris, this original Batmobile was featured in the cult classic television series and 1966's Batman, the Movie.

Michael Keaton's Batmobile from 1989's Batman and 1992's Batman Returns. Sleek and powerful with a central turbine, the vehicles' slightly retro design followed Tim Burton's art deco look of the films.

Revamped for Joel Schumacher's 1995 Batman Forever, with bat-lighting and extended fins, Val Kilmer's hot rod had the ability to drive up walls.

Schumacher updated the Batmobile once again for George Clooney in 1997's Batman & Robin. At 33 feet long and a top speed of 350 mph with afterburner thrust, this was the largest and fastest Batmobile on the road.

The Tumbler designed for Christopher Nolan's 2005 Batman Begins and 2008's The Dark Knight is the prototype military vehicle designed by the character Lucius Fox (Morgan Freeman).

The unveiling of the replacement Camouflage Tumbler, to be seen in 2012's The Dark Knight Rises, in theaters and IMAX July 20.
Yeah, all six batmobiles actually sounds pretty darn cool. They'll get bonus points if we can take pictures in them.
Cool Exclusives and Stuff
Dan Cooney (Booth #5530) is giving away a sweet skate deck with Valentine art on it. About Valentine:
Attendees have a chance to win an exclusive skateboard signed by the artist of the crime fiction series Valentine. The Valentine comic series has been optioned for film.
I've got one of these skate decks hanging on the wall in my office that I bought from Dan at WonderCon a year or two ago. If you're there, stop by and check it out.

Wally Wood 12 Panels That Always Work print (Booth #1709).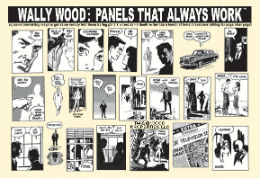 Wally Wood has had a resurgence in popularity lately, in part due to the recent Artist Edition from IDW featuring his science fiction work from EC comics. The comic world was reminded of how incredibly talented Wally Wood was.
Wally Wood has a now famous doodle of "22 panels that always work", it is a bunch of thumbnails of panels that can be used in a comic when that lazy no-good writer doesn't give enough information about what is going on.
The Wally Wood estate is debuting a print of the 22 panels, I know I'll picking up one of these for myself.
Daredevil Artist Edition
Speaking of Artist Editions, IDW usually has a variant of their artist edition books at SDCC. This year, they have a variant of both the Daredevil: Born Again artist edition, and the Groo artist edition.
I'll be stopping by the IDW booth.
How To Find Me
Want to find me during the con? The easiest way is probably through twitter, that should pop up a nice little message on my phone. Message me at either @baddeacon (my personal twitter account), or @onlythevaliant, and I'll get that message.
You can also try sending an email to the onlythevaliant at gmail email account.