SDCC starts today. Pretty soon, people will start to descend on San Diego. This morning was quite, however.
Bloodshot and Harbinger came out today. My first order of business was to get coffee and a bagel, sit down with my iPad, and pour through them. I put up my early impressions, executive summary – I liked them.
Top Shelf Cyber-Con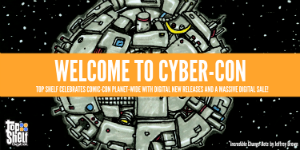 I found out about this last night, and it was announced this morning. Top Shelf Productions is holding a Cyber-Con for folks that can't make it to Comic-Con.
Top Shelf publishes a lot of indie, creator owned titles. A few notable new things that are available digitally:
Underwater Welder by Jeff Lemire
The Surrogate: Case Files #1 by Robert Venditti and Brett Weldele (dude, he's the writer of X-O Manowar)
League of Extraordinary Gentlemen: Century 2009 by Alan Moore and Kevin O'Neill
Double Barrel #1 and #2, by Kevin Cannon and Zander Cannon, the best deal in comics!
A ton of other Top Shelf stuff is on sale on Comixology as part of this Cyber-Con sale, check out some great creator owned indie comics!
San Diego Drinky Con
Wednesday afternoon before Preview Night opens is one of my favorite times at the show. During the afternoon, friends start to arrive to San Diego, everyone picks up their passes, and the excitement builds in anticipation of the doors opening.
The only sensible thing to do is to grab a beer with your buddies! Luckily, the Gaslamp District in San Diego (the area across from the convention center, full of restaurants, shops, and bars) has a plentiful number of places to go. I dropped in with Jonesy, and by the end of the afternoon, another five or six friends had dropped by to wait for the con to open.
I affectionately like to call the afternoon before Preview Night Drinky-Con, in celebration of the most ideal way to wait.
The Floodgates Open
Once every last drop of Drinky-Con was finished, we headed down to the convention hall, waited a few minutes for the front doors to open.
For me, Preview Night is when I hustle around to pick up exclusive merchandise. I flip it on eBay, and it helps to pay for my trip down to San Diego.
First stop, IDW Publishing, for their incredible variant books they are selling at the con. I picked up a couple books for a friend back home, and the Dave Stevens: Covers and Stories hardcover book for myself.
Second stop, Boom! Studios, to pick up the Adventure Time mini-comic. A special treat, Dan Abnett and Andy Lanning were at the booth, signing copies of Hypernaturals, their new cosmic sc-fi/superhero book. I got to tell them how much I enjoy their work, and get the convention variant of Hypernaturals #2 signed by them.
Third stop, Image Booth for some Secret Agent Poyo. After that, Hero Initiative for some Lady Death exclusives.
Around this time, I decided to cruise through the comic dealers, to see if I could find some Valiant goodies. With Bloodshot out that day, I wanted one of those sweet, sweet 1:50 variants. Found it. Paid for it. My precious.
Wrap It Up
A quick trip back to my hotel room to drop off my swag, and I was back to cruise the hall one last time before meeting some folks for dinner at the Tilted Kilt (always enjoyable).
As I wrap this up, I'm about to get ready to get ready and head out for the first full day of Comic-Con.