Monday:
Monday was a slow day, except for one thing, the return of #FanArtFriday!
Submit YOUR artwork on twitter to @valiantcomics with the hastags #FANARTFRIDAY & #SUMMEROFVALIANT best art each week can win great prizes!!

— ValiantComics (@ValiantComics) July 30, 2012
I've contributed to Fan Art Friday in the past, and might have something for this week. Read on…
Tuesday:
Preview Alert: Valiant sent out a preview of Harbinger #3, showing the first meeting between Pete Stanchek and Darpan, the scary baby from the beginning of issue #2
Also, a couple good interviews today:
Wednesday:
New Comic Book Day! What did you pick up?
Here's what was in my pull box at the Grooviest Comic Shop In The World:
Epic Kill #4
Hypernaturals #2
Mind The Gap #3
And because I didn't make it in last week (busy work week):
Godzilla #3
Manhattan Projects #5
Also, New Old Comic Book Day!
By the way, are you on the fence about going digital? Why not dip your tow in the water for free? A great place to start is the Valiant Free Comic Book Day 2012 book. It's free on Comixology. You can see for yourself how you like reading digital comics without any investment.
Also, a page from Bloodshot #2
Twitter Exclusive: A never before seen page from Bloodshot #2 out Aug 15th #comicmarket twitter.com/ValiantComics/…

— ValiantComics (@ValiantComics) August 1, 2012
Thursday:
Advance reviews for Archer & Armstrong #1 started rolling out today. Ours rolled out too, but it was sent exclusively to our newsletter subscribers. A bunch of other folks had advance reviews.
A lot of these reviews are a little bit spoilery, in that they reveal info about the setting and circumstances our characters find themselves in. If you prefer to remain in the dark about this issue till it is in your hands, skip this section:
Also:
Friday:
Let's get some stuff out of the way:
Also, it was #FanArtFriday!
I posted my own, and others shared some too!
Here's mine: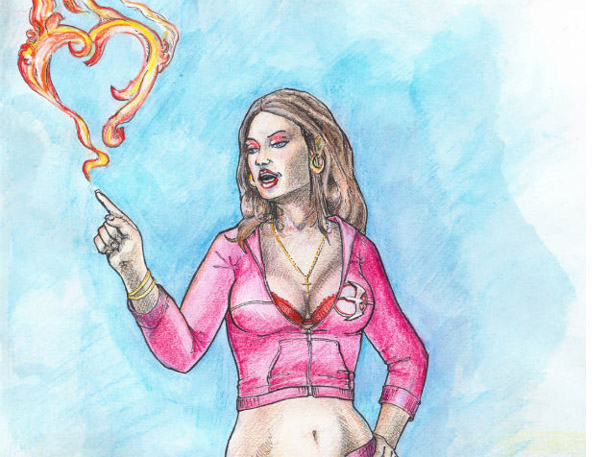 With that, let's call it a week! Have a good weekend!