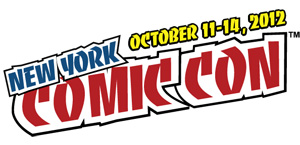 Well the Big Apple is always exciting and this weekend was no exception. I bought one of the last Friday tickets online and showed up about 30 min early to pick it up. The lines were incredible. For those who already had tickets waiting to get in, it looked like hordes lining up to enter the cities last safe zone. When I finally got my badge and entered the convention hall i panicked because I forgot where Valiant's booth was. I finally located it on the map in the Con book and made my way over. Their location was great, very near an entrance and centrally located. I first saw Fred Pierce giving out free Valiant/Shadowman promo books and said hi. Also there was Peter Stern, Valiant employee, keeping the booth organized and running smoothly, and Manuel Garcia (Bloodshot) signing. Manuel was hard at work sketching a flip book for a fan but was kind enough to sign a few items for me. I ran into a number of other Valiant friends and we hung out there at the booth for a bit chatting and catching up.
It was then that I learned of plans to visit Valiant's headquarters just a few blocks away. First we were going to head over before the panel, but plans changed to a 6pm visit. We headed over to artists alley to meet up with Sean Chen, artist on the original Valiant, and stopped by Arturo Lozzi's, cover artist, table. From there we broke for lunch and meet back again at Valiants booth around 2pm where Joshua Dysart (Harbinger) was just being relieved by Fred Van Lente (Archer & Armstrong) on signing duties. Both are very approachable and easy to talk to.
Now it was time to head over to the panel. When we got to the panel room I was surprised to see a lengthy line already formed out side it! That was a first for me for all the Valiant panels I've been to this year. I still got pretty good seats once inside and watched as Hunter Gorinson (Valiant marketing) introduced Warren Simons (Valiant executive editor), Dinesh Shamdasani (Valiant CCO), Fred Van Lente (A & A), Joshua Dysart (Harbinger), and Justin Jordan (Shadowman). Each talked about upcoming books and stories and plans for the future. We learned about a Harbinger #0 coming out with focus on Harada, and a crossover between Harbinger and Bloodshot. You could tell Justin was excited about his book coming out next month. Josh eloquently conveyed his passion for his book and characters. Fred showed why he's the perfect man to helm A & A. Dinesh looked at ease and his eyes sparkled with optimism. And Warren was as chill and laid back as ever.
Questions from the audience were great but one recurring theme was people's interest in the old Gold Key characters (Solar, Magnus, and Turok). Even after repeated responses that they will not be in this Valiant universe some people still insisted on bringing them up, to audible groans from the audience. One of the biggest things I noted was the size of the audience. The room was packed! I would estimate over 200 people. There was, as at past panels, a palpable excitement in the room, and the audience was very diverse. One of the last surprises was Dinesh telling us that everyone there would be getting free Archer & Armstrong #1 Golds which were handed out as we left the room!
The only negative to my day was the fact that the last flight of the day, for me to get back home, left at 6:05 pm. I had to make the hard decision that there would be no office tour for me this time. I said my goodbyes to my friends and left the convention. As i was walking down the street outside a guy asked me if i wanted to sell my day pass for $25… I said absolutely.;)
What a great day. And a great showing by Valiant. I can't wait for the new stories coming up and of course for Shadowman! Till next time this is Rufus advising all to keep it together!!