Wednesday, November 7th, 2012. A day that I have been looking forward to since Valiant Entertainment released details about the book. The release date of Shadowman #1, by Justin Jordan and Patrick Zircher!
Before I get into this review, I must preface reasons why I am excited about this title! The original 43-issue run of Shadowman (plus Yearbook and zero issue) by Jim Shooter, Steven Englehart, David Lapham and the great Bob Hall was one of my favorites of the original Valiant. It consistently held up quality in storytelling with few hiccups throughout its' tenure, with an atmosphere unmatched by few during the 1990's. PLUS…one of my "Desert Island" comic runs of all time is Marvel Comics' "New Warriors" which featured pencils by Patrick Zircher on the latter part of that title (#55-75); a pleasant surprise for this Chromium-domed comic fan!
On to the issue at hand!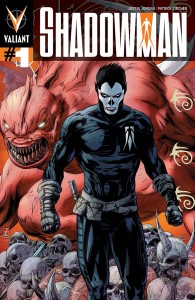 The book immediately opens with two figures discussing something about to happen, neither seeming too pleased. The very next page, we're thrown right into some serious action; this two-page spread featuring some of the most beautiful artwork i've seen in the new Valiant relaunch thus far! This flashback sequence also features a glimpse at the villain of this book, but I won't spoil the surprise (even though most of you reading this probably already know who it is…hahaha).
The rest of the book takes place in current-era New Orleans and I won't go into further detail about the storyline to avoid spoilers for new-comers to Shadowman. What I will tell you is that this first issue captures the same dark essence of all prior incarnations of Shadowman, with a modern, real-time edge that I personally do not experience much in today's comic industry. There are some chilling moments, and down-right messy ones too. An introduction to another villain, and lots of set-up for the characters involved. I felt that this issue read pretty quickly compared to the other number ones released by Valiant since the summer, but I am very pleased with my purchase of this title! And the "Black Out" pullbox variant is super awesome to behold; try to obtain a copy if you can

In conclusion, I highly recommend buying Shadowman #1 at your local comic book shop, or online in digital format if you are looking for a modern thriller with the action of all the best super-hero books, mixed with the horror vibe of The Walking Dead.
Namaste,
Jonesy