Wondercon is always my favorite convention. I've been attending since it was in Oakland back at the turn of the century, and have never missed a year.
This year should be just as good as ever!
Here's all the details about where to find OTV and Valiant at the convention.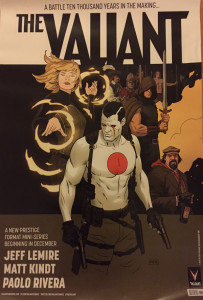 Free The Valiant Posters!
First, I found my way in to a stack of The Valiant posters. I have about 20 of them at the convention, and I'm handing them out for free to whoever wants them.
How and where to get one?
Just come to Elveen's Comics at Booth 940, and ask for one. Elveen and I will be there the whole weekend (except that I'll be gone when the Valiant Comics panels are happening).
That brings up another thing…
Elveen's Comics
Elveen is the hardest working comic dealer in any room he is in, and also the most fun as well. Come on by the booth (#940), say hi, talk Valiant for a minute, and soak in the comic goodness. We'll see you there.
If you want to find Sean or Elveen during the show, that's the place to do it.
We may be a bit busy providing our signature excellent service to the comic buying public, but we'd love to chat for a minute when the crowds die down.
Valiant Comics
Here's what I know about Valiant at the convention.
Find them at Booth 405. They are near the front, by the Image and IDW booths. They should be easy to find.
This isn't a complete signing schedule at their booth, but here's what I do know.
Friday:
11am – 12pm: David Baron
2pm – 3pm: Joshua Dysart
Saturday:
4pm – 5pm: David Baron
2:30pm – 3:30pm: Joshua Dysart
There are two Valiant panels.
Valiant 101: The Story Starts Here
Friday, April 3, 3:30pm to 4:30pm
Room 208

New to Valiant Comics? Start here with an accessible introductory panel filling you in on everything you need to know about the heavy hitters of the Valiant Universe! This panel will take you step by step through the origins of X-O Manowar, Bloodshot, Quantum and Woody, Ninjak, and more of Valiant's top heroes and villains right here with Valiant 101!
Valiant 25th Anniversary Celebration
Saturday April 4, 12pm to 1
Room 211

Valiant's 25th year is going to be the biggest one yet! The silver anniversary celebration begins right here as Bloodshot, X-O Manowar, Ninjak, and the rest of Valiant's fearless heroes take center stage for a star-studded panel celebrating 25 years of Valiant comics! Featuring an exclusive round of news and announcements about the largest and most acclaimed independent universe in comics, an all-star cast of Valiant staff and creators fill you in on what's coming next for the iconic heroes and villains of the Valiant Universe.
Here are a few panels featuring Valiant creators:
Crime Does Not Pay, or Does It?
Friday April 3, 2015 1:30pm – 2:30pm
Room 300DE

From spies to assassins to private detectives, crime comics are a staple, and one that is having a resurgence. Moderator Jessica Tseang (comic book historian) discusses how crime comics pay off with Darwyn Cooke (Richard Stark: Parker series of graphic novels), Fred Van Lente (Archer & Armstrong), Marc Andreyko (Manhunter), Phil Noto (Black Widow), and Steve Epting (Velvet).
Spotlight on Greg Pak
Saturday April 4, 2pm to 3pm
Room 209

A spotlight on writer and WonderCon Anaheim special guest Greg Pak (Action Comics, Batman/Superman, Storm, Planet Hulk) that includes the latest on Superman, the scoop on his new Princess Who Saved Herself children's book (based on the Jonathan Coulton song), special guests, a Q&A session, and sneak peeks at all kinds of cool stuff!
Make Comics Like the Pros
Saturday April 4, 2015 3:00pm – 4:00pm
Room 211

Greg Pak (Batman/Superman) and Fred Van Lente (Archer & Armstrong) bring their bestselling how-to book, Make Comics Like the Pros, to life with an all-star panel of advisors. Writer Cullen Bunn (The Sixth Gun), writer Corinna Beckho (Invisible Republic), writer/artist Gabriel Hardman (Kinski), writer/artist Jamal Igle (Molly Danger), and a few special surprise guests will unlock the secrets of comics creation from idea to execution to publication. Come armed with questions-they have answers!
Color Theory with Alex Sinclair, Jeromy Cox, and David Baron
Saturday April 4, 2015 5:00pm – 6:00pm
Room 210

Alex, Jeromy, and Dave discuss color theory and how it affects their approach to every page and cover that these professional colorists work on.
Image Comics: Where Creators Own Sci-Fi
Sunday April 5, 2015 10:30am – 11:30am
Room 300DE

Androids, geneticists, time travel, multidimensional space hopping-the possibilities are endless when it comes to science fiction and comics. Becky Cloonan (Southern Cross), Fred Van Lente (Howtoons: [Re]Ignition), and Dustin Nguyen (Descender) specialize in bringing to life futuristic worlds that comics readers can instantly be transported to. Learn more about what's to come in their out-of-this-world sci-fi storytelling!
Jack Kirby Tribute
Sunday April 5, 2015 3:00pm – 4:00pm
Room 209

Time to salute and talk about the man some in comics call "The King." The life, times and influence of Jack Kirby will be discussed by Neal Adams, Darwyn Cooke, Fred Van Lente, Crystal Skillman, Len Wein, Paul S. Levin (attorney for the Rosalind Kirby Trust), and Kriby biographer and former assistant, Mark Evanier.
OTV will be covering the convention as much as possible. Here comes Wondercon!